Friendship knows no distances
Invite your friends to open a FIneco account MERCATI INCERTI


COSA FARE?

Segui i Fineco Live Webinar e confrontati
con esperti e trader professionisti.
INSIEME
PER L'EMERGENZA COVID-19
Fineco sostiene gli ospedali Sacco di Milano e Spallanzani di Roma. Scegli di contribuire anche tu.
oltre 1 milione di euro donato insieme
donate now
F24 DA PAGARE?
CON FINECO APP FAI PRIMA
Ora puoi pagare le imposte e i tributi direttamente dal tuo smartphone.
Questa e tante altre novità disponibili.
MY ACCOUNT IS MULTI-CURRENCY
A single account to pay, invest and manage liquidity. Now in 21 different currencies, with the possibility to buy and sell currencies day and night, 7/7.
Find out more
IL RISPARMIO SI
CHIAMA MONEYMAP
Monitori in ogni momento le tue entrate e le tue uscite.
Così sai sempre dove, come e quanto spendi.

Clienti
soddisfatti

Per customer
experience

La banca più
consigliata al mondo

Una delle realtà
più solide in Italia
IL CONTO DEL FUTURO. DAL 1999.
Scegli l'innovazione e la trasparenza Fineco,
il conto che semplifica la banca da oltre 20 anni.

Italy Withdrawals
Free withdrawals on the BANCOMAT® circuit if higher than €99.

Smart Withdrawal
Cardless withdrawals at the UniCredit ATMs. All you need is your smartphone.

Maxi Withdrawal
Free withdrawals up to €3,000€ from all UniCredit ATMs in Italy.

Debit Card
The free contactless card for withdrawing and paying in Italy and abroad. Find out more

Self-service deposits
You deposit Cash and Cheques unassisted, at all evolved UniCredit ATMs.

Maxi Purchase
Increase your Visa Debit maximum limit up to €5,000 for one day.

Paga con una foto
Con Fineco app paghi i bollettini inquadrando il QR Code e confermando i dati

Boundless transfers
In Italy free and unlimited. Abroad to 250 countries and in 20 different currencies.

Instant transfers
Send and receive money in real time and make payments in seconds, even from app.

Online payments
MAV, RAV, road tax, utilities, bills, taxes and duties: you can do everything online.

Telepass
You can request it online and receive it at home. Or transfer yours in 48h.

Reloads
Reload your mobile phone at zero fees, automatically.

Mortgages
Purchase, Subrogation, Liquidity and Refinancing. At fixed or floating rate. Find out more

Online loans
Request up to €50,000 directly online, on your own. Find out more

Credit lines and Lombard
Request from €3,000 to €1,000,000 of added liquidity on your account. Find out more

Google PayTM
Make purchases with your Android device quickly and securely. Find out more

Apple Pay
Pay in-store, in-app or online using your Apple device. Find out more

Fitbit Pay
Per pagare i tuoi acquisti con il tuo smartwatch Fitbit compatibile. Find out more
Garmin Pay
Ora per pagare bastano uno smartwatch Garmin e un POS contactless. Find out more

Multi-currency account
Diversify your liquidity and invest in 21 global currencies, in real time.

Cheques
Order cheque books and process bank drafts at home.
COSTRUIAMO INSIEME IL TUO FUTURO.
Raggiungere i tuoi obiettivi finanziari non è solo una questione di numeri.
Per noi, contano le persone dietro le cifre.
Ampia offerta multibrand
Oltre 60 tra le più prestigiose società di gestione internazionali con prodotti di eccellenza in grado di dare più valore ai tuoi investimenti.
Scopri le soluzioni Fineco Asset Management che arricchiscono l'offerta Fineco.



SCOPRI IL TRADING N.1 IN ITALIA.
Un'ampia gamma di prodotti mondiali accessibili da un unico conto multivaluta, anche da app.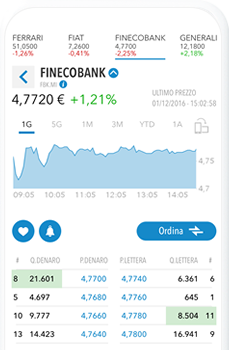 Il trading in tasca
Con l'app Fineco fai trading dove e quando vuoi e hai sempre tutto sotto controllo, in tempo reale.
NON SOGNARE L'IMPOSSIBILE.
REGALATELO.
Mutui, prestiti e fidi fino a 1 mln:
qualunque sia il tuo progetto, abbiamo la soluzione per te.
Più valore con Credit Lombard
Con il tuo portafoglio titoli e fondi puoi avere una riserva di liquidità aggiuntiva sempre disponibile sul tuo conto.
SOLUZIONI PRIVATE PER I TUOI BISOGNI
Private Banking in Fineco significa costruire la relazione più profonda con ogni cliente.