Work with us
We're ready to talk about your future. How about you?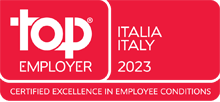 TOP EMPLOYER ITALY 2023 CERTIFICATION
This certification is assigned to companies that stand out for their excellence in creating a positive and stimulating work environment, favoring the enhancement and development of skills.
Discover career opportunities in Fineco
Join the team of financial advisors
At Fineco, you'll always take pride of place and enjoy all the right career opportunities to build and expand on your experience. Why not join us?
At Fineco, we really believe in the work of Financial Advisors and the value of their client relationships. You take the lead, but we are always there to support you: you get a thorough training plan and background support, with initiatives to help you acquire and develop clients.
You're free to choose the products you recommend to your clients, backed by one of the largest multi-brand ranges available on the market and a remuneration system that is totally separate from the investments proposed.
A major financial advisory network, boosted by the strength of UniCredit Group and products and services of excellence. Plus over 300 Fineco Centers across all of Italy, with events and support programmes for local initiatives and communication campaigns run nationally.
Technology and innovation are at your service. A platform that simplifies and streamlines your work, letting you focus on what counts most – the client relationship. And with Fineco Advice, Fineco's advanced advisory service, you have maximum control every step of the way.
Financial Advisors Senior Advisor
If you are a professional with extensive experience looking for new opportunities to advance your career, contact us right away!

Why join Fineco?
The reason is simple. Fineco Personal Financial Advisors can count on the best investment platform on the market and a highly rewarding incentive system.
send us your cv
Advisory: Youth programme
Are you a young financial advisor or a candidate hoping to become a chartered financial advisor? We offer professional instruction and on-the-job training, involving the creation of a client portfolio supervised by Fineco.

Objective: To become a Fineco-style Personal Financial Advisor within two years.
send us your cv
Our head offices
Working for Fineco means joining an innovative, dynamic workplace that puts people first and invests in them.
At Fineco, we believe that people can grow and change. That's why we attach so much importance to a holistic approach to learning and knowledge sharing, which helps us to build and sustain a culture of continuous professional development.
Enjoy a stimulating work life full of learning and advancement opportunities at Fineco, where remuneration policies and internal mobility programmes are designed to help you achieve your career aspirations.
Personal performance and team performance is assessed and developed through a shared, structured process designed to build on strengths, improve on weaknesses and, above all, steer personal career expectations towards opportunities available.
We are a team of professionals with diverse skills and experiences, all focused on the one goal: to improve our clients' lives. That's why all our ideas and all our initiatives revolve around the concepts of innovation, simplicity, transparency and client focus.
| Tipo di Lavoro | Livello | Sede | Area | |
| --- | --- | --- | --- | --- |
The 200 yearly transactions included in the fee are:
Sepa Direct Debits
Cash and cheques payments via enabled ATMs
F24 direct debits
Withdrawals on the BANCOMAT® circuit at UniCredit Group ATMs
Withdrawals on the BANCOMAT ® circuit at ATMs other than UniCredit Group ATMs
MAV, RAV, RIBA
Italian and SEPA credit transfers
EU foreign transfers up to €50,000
Cheques payments via PFA
Over the limit of 200 free transactions per year, the following transaction will be charged €1.95 each:
F24 direct debits
Cash and cheques payments via enabled ATMs
Withdrawals on the BANCOMAT ® circuit at ATMs other than UniCredit Group ATMs
MAV, RAV, RIBA
Cheques payments at desk via PFA
All other transactions included in the fee remain for free, also in case the tolerance threshold is exceeded.