Taking advisory to a whole new level
Discover Fineco Advice, the innovative personalised consulting service for your investments.
With Advice your Personal Financial Advisor will be able to satisfy even the most complex needs: such as succession planning and tax efficiency.
A new way of investing
Keep your investments firmly on the right track with Fineco Advice. Our Personal Financial Advisors select the best products for you without limitation and put together a personalised investment plan, guaranteeing ongoing assistance to help you make smart investment decisions – with method, transparency and complete freedom.
Your Advice-certified Personal Financial Advisor will guide you through a three-step investment process to arrive at the best decisions for you. Those steps are: Diagnosis; Investment Planning; and Monitoring. To give you maximum control over your portfolio strategy.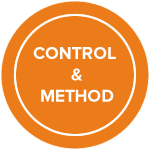 Diagnosis involves an initial check-up on your current investment portfolio. The quality of your investments is analysed, including those held with other banks, with an overall assessment made of risks and opportunities.
1

The quality of your current investments is analysed

2

The risk level and performance of your investments is measured

3

VThe effective composition of your portfolio is identified
All this to give you a preview of how your money might grow over time.
At the end of this first step you will receive a Portfolio Diagnosis showing the health of your wealth.
On the basis of your goals and plans, your Personal Financial Advisor will identify a suitable investment strategy based on the independent selection of the best products available, after having established:
Your desired appetite for risk
The time horizon most compatible with your objectives
Your primary and secondary investment objectives.
An efficient portfolio will then be created for each of your objectives, with the best products chosen without restriction and without conflict of interest. With Fineco Advice, the fee you pay is set in advance and is in no way linked to the products placed in your portfolio.
The outcome is a personalised investment plan built on the best investment strategy to achieve your goals.
Fineco Advice constantly monitors your investments by tracking their performance, effective risk levels and any mismatch between the portfolio and the initial investment plan.
If any major drift is found, together with your Personal Financial Advisor you can choose to step in and rebalance the portfolio, as necessary.

This way you can:
Control your portfolio's performance vis-à-vis your objectives
Take swift action in the event of market swings
Manage your investments professionally and with sound method.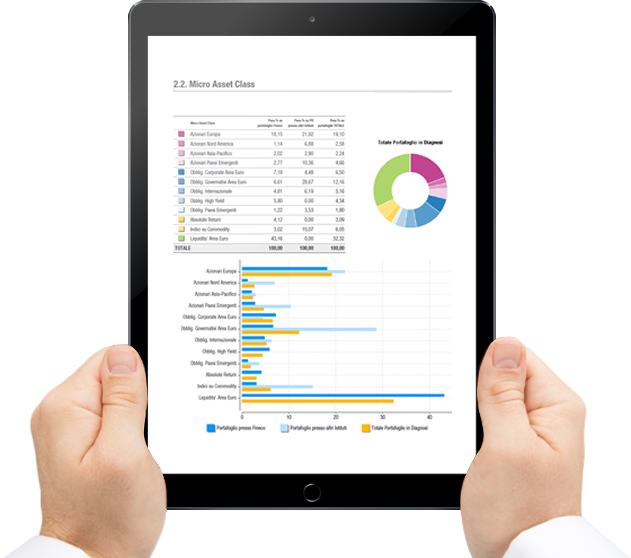 Periodic reporting
Fineco Advice guarantees regular detailed reports on your investment objectives. Specifically, it monitors your portfolio's performance over time in terms of:
The efficiency of the portfolio
Its match with your chosen objectives
The quality of the products held
Performance and the risk/return profile
A detailed report on the performance of your investment plan will be sent to you every four months.
More benefits with Advice Unit
Advice Unit is the unit-linked policy that combines maximum personalisation of investments,
also thanks to 7 Internal Insurance Funds (IIF) managed automatically and featuring an increasing volatility, with insurance instrument benefits, such as the deferral of tax on capital gains, the exclusion from the hereditary line and much more.
Innovation & security
The innovative web collaboration tool puts you in direct contact with your Personal Financial Advisor fast and easy via the Internet. After opening the service contract there will be nothing more for you to sign on paper. All operations can be viewed directly in the reserved section of the Fineco website, ensuring security and fast execution of orders.
With your Personal Financial Advisor always by your side