5.164,57 €
Deducibilità fiscale annua fino a
Tassazione annua sui rendimenti agevolata al 20% anziché 26% come negli altri strumenti di risparmio
Aliquota decrescente dal 15% al 9% per TFR e anticipazioni per spese sanitarie, invalidità permanente, inoccupazione o riscatto dopo il decesso da parte degli eredi
Anticipazioni fino al 75% dell'importo maturato, con aliquota al 23%
Esenzione da imposta di bollo e di successione
Decide today how to protect your tomorrow
With Core Pension, the open-ended pension fund offered exclusively by Fineco, you can choose from 5 investment lines:
Il calcolo delle pensioni si basa su contributi versati, età del pensionamento e andamento del PIL.
Per un dipendente con 40 anni di contributi nel 2040, la pensione sarà il
65,1% dell'ultimo stipendio
: un gap pensionistico del 34,9%. Questo se il PIL del Paese sarà cresciuto mediamente dell'1,5%.
Per goderti gli anni della pensione con serenità, devi pensarci ora.
scopri i comparti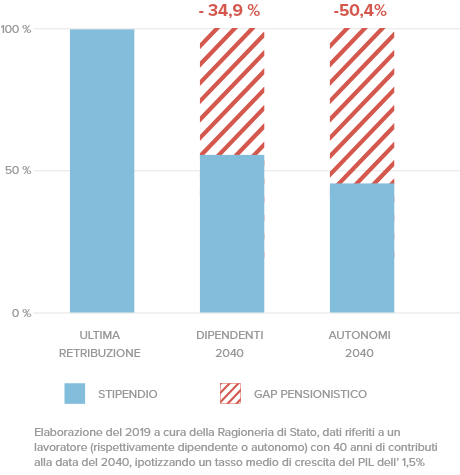 Per i dipendenti
Integrare la pensione di base dei lavoratori dipendenti, sia di aziende private che della pubblica amministrazione.
Per autonomi e professionisti
Contare su una rendita futura e beneficiare dei vantaggi fiscali, attraverso una soluzione flessibile.
Per proteggere il patrimonio
Tutelare il valore del patrimonio nel tempo in termini di ottimizzazione fiscale e pianificazione successoria.
Per i figli
Come piano di risparmio per chi è fiscalmente a carico (es. per gli studi, la casa o un attività imprenditoriale).

Scegli la versione di Core Pensione che fa per te
Inoltre, se vuoi personalizzare la tua scelta, puoi combinare insieme più comparti. E se invece non sai quale scegliere puoi compilare un questionario: ti indicherà la soluzione più adatta a te.

Accedi alla tua area riservata, sezione Consulenza > Fondi e previdenza > Fondi pensione, per sottoscrivere subito Core Pension. Entro sei mesi, decidi tu quando iniziare a investire, anche a partire da piccoli importi. E quando vuoi, puoi effettuare liberamente versamenti aggiuntivi.
Consulta le FAQ per approfondire tutti i dettagli sul servizio
Core Pension è un fondo pensione aperto, gestito da Amundi SGR S.p.A. società di gestione del risparmio appartenente al Gruppo Crédit Agricole, finalizzato all'erogazione di trattamenti pensionistici complementari del sistema previdenziale obbligatorio, ai sensi del d.lgs. 5 dicembre 2005, n. 252. Messaggio promozionale riguardante forme pensionistiche complementari - prima dell'adesione leggere la Sezione I della Nota informativa "Informazioni chiave per l'aderente". Maggiori informazioni sulla forma pensionistica sono rinvenibili nella Nota informativa completa e nel Regolamento. La nota informativa e il Regolamento sono disponibili sul sito finecobank.com e presso i promotori finanziari Fineco.
Le condizioni di accesso, i limiti e le modalità di erogazione delle anticipazioni sono dettagliatamente indicati nel Documento sulle anticipazioni disponibile sul sito www.corepension.it