I trend del futuro in un solo investimento
Cogli le opportunità dei megatrends mondiali
FAM Megatrends è il nuovo fondo di fondi che investe sui trend di crescita dell'umanità a più alto potenziale e li combina in un portafoglio tematico altamente innovativo.
OTTO TREND MONDIALI *
UN UNICO INVESTIMENTO
| | | |
| --- | --- | --- |
| | Smart cities | 25% |
| | Invecchiamento popolazione | 17,5% |
| | Fintech | 17,5% |
| | Acqua | 10% |
| | Cambiamenti climatici e ambientali | 10% |
| | Oncologia | 7,5% |
| | Droni | 7,5% |
| | Veicoli elettrici e a guida autonoma | 5% |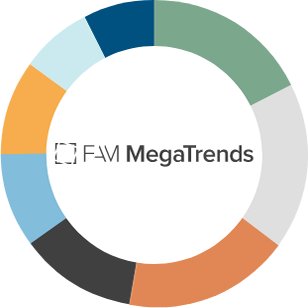 * Portafoglio modello alla data del 30 settembre 2019
Investi ora su
FAM MegaTrends coglie le opportunità di 8 grandi trend mondiali, attraverso un unico portafoglio diversificato e gestito attivamente da Fineco Asset management.
Con un solo prodotto, investi su 8 temi trend che stanno cambiando il mondo.
Puoi investire sul futuro con un importo minimo di sottoscrizione pari 1.000 euro
Puoi investire anche un pò per volta, tramite PAC, a partire da 50 euro al mese.
I Fondi sono selezionati con metodo da un team di gestione dedicato
I megatrends mondiali
Il portafoglio di FAM MegaTrends è basato sui fondi che sfruttano 4 grandi megatrends mondiali interconnessi tra loro. Scoprili nel dettaglio.
1/4 - Demografia
Popolazione degli USA
(Milioni di persone)
I rapporti delle Nazioni Unite (ONU)(1) prevedono un aumento della popolazione mondiale di oltre 1 miliardo di persone entro il 2030. Questo tasso di crescita senza precedenti non è equamente distribuito né dal punto di vista geografico, né da quello generazionale: la popolazione mondiale, infatti, sta invecchiando, facilitata dagli avanzamenti nei settori medico e tecnologico, e inoltre la generazione dei Millennials sta influenzando sempre di più i modelli di consumo, spesa e occupazionale. Geograficamente, l'effetto incrementale si nota sia nei paesi sviluppati che in quelli in via di sviluppo, ma il trend ha molto più impatto nel continente Asiatico. Infatti, ci sono più ultra-65enni in Asia che persone negli Stati Uniti d'America e si prevede che nei prossimi 25 anni ci saranno più ultra-65enni in Asia che persone nella Eurozona e in Nord America, messe insieme.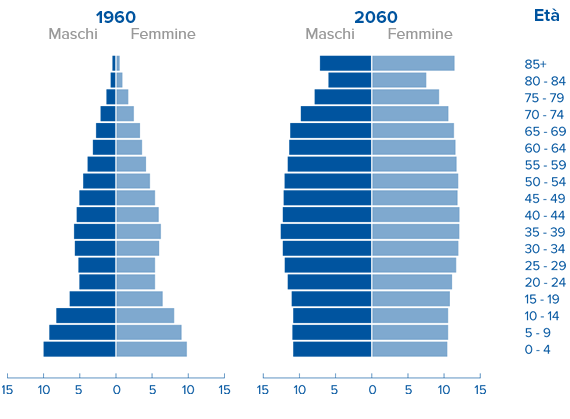 2/4 - Sostenibilità
Concentrazione CO2 negli anni
Secondo la NASA, le temperature globali sono aumentate di 1,9° F dal 1880 e 18 dei 19 anni più caldi mai registrati si sono susseguiti a partire dal 2001(2). Nello stesso tempo, dati satellitari indicano chiaramente il restringimento delle calotte polari, con il conseguente innalzamento dei livelli del mare ad una velocità di oltre 3 mm all'anno. Contemporaneamente, i livelli di anidride carbonica nell'aria sono al loro massimo da oltre 650.000 anni: tali livelli sono attribuibili in gran parte all'agricoltura, alla deforestazione e all'uso di combustibili fossili. È probabile che questi effetti allarmanti saranno esacerbati dalla crescente popolazione globale, a meno di identificare combustibili, materiali e processi più efficienti, in modo da ridurre l'impatto umano sul pianeta.
Source: climate.nasa.gov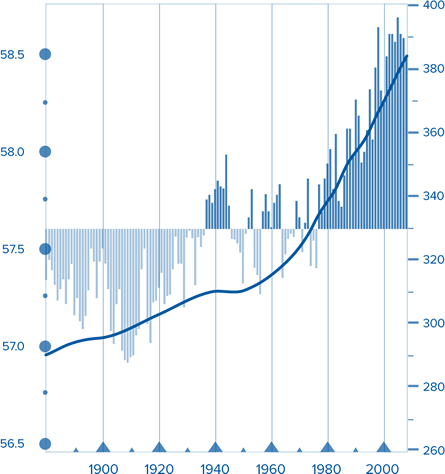 Nel 1990 sull'intero pianeta esistevano solo 10 città con una popolazione ai 10 milioni di abitanti – le cosiddette "megalopoli". Oggi il numero delle mega-città mondiali è quasi triplicato, sono infatti ben 28. Nel 1950, il 30% della popolazione mondiale viveva in aree urbane e si prevede che questa percentuale aumenterà al 66% entro il 2050: con la crescita della popolazione, le città, come sono attualmente conosciute, dovranno adeguarsi alle diverse richieste dei propri cittadini.
Source: Source: https://esa.un.org/unpd/wup/Publications/Files/WUP2014-Highlights.pdf
Popolazione urbana e rurale mondiale (1950 - 2050)

4/4 - Tecnologia e innovazione
Gli sviluppi tecnologici stanno migliorando la produttività ad un ritmo mai visto prima. Le innovazioni nel campo della robotica, dell'intelligenza artificiale e delle tecnologie di comunicazione stanno spingendo le industrie tradizionali come la vendita al dettaglio, la manifattura, l'agricoltura, i trasporti, la medicina e la finanza a cambiamenti radicali. Infatti, il ritmo del cambiamento è esponenziale e quando verranno sviluppate le macchine in grado di apprendere più velocemente degli esseri umani ci saranno effetti dirompenti: il 60% di tutte le professioni potrebbe vedere automatizzato il 30% o più delle proprie attività principali(3). Questo processo di automatizzazione porterà inesorabilmente alla sostituzione di posti di lavoro con macchine ma ciò significa anche che il potenziale per le industrie e la creazione di nuove professioni è elevatissimo. Infatti, l'automatizzazione e l'efficientamento dei processi avrà l'effetto positivo di ridurre i costi e di permettere allo stesso tempo un'offerta di prodotti migliori e quindi di migliorare lo standard di vita. L'internet delle cose sta prendendo sempre più piede all'interno del mondo moderno: le macchine per il caffè, i frigoriferi, gli impianti di illuminazione, il riscaldamento e persino i campanelli sono o presto saranno controllabili tramite tablet e smartphone. I dati in possesso a Gartner stimano che nel 2016 ci siano state 6 miliardi di "cose" connesse a Internet e che entro il 2020 questo numero salirà ad oltre 20 miliardi.
Source: Source: https://esa.un.org/unpd/wup/Publications/Files/WUP2014-Highlights.pdf
Aumento della produttività grazie allo sviluppo tecnologico

There is no guarantee of a positive return or repayment of the initial capital.
Advertising message for promotional purposes.
FAM Evolution ICAV is an open-ended collective investment scheme under Irish law with a multi-sub-fund, multi-class umbrella structure established and managed by Fineco Asset Management DAC, a collective investment management company incorporated under Irish law and authorised by the Central Bank of Ireland. Fineco Asset Management DAC is a wholly-owned subsidiary of Finecobank S.p.A. Before subscribing, read the KIIDs that the promoter of the investment delivers before subscribing, and the Prospectus, which is available on the website: www.finecobank.com, and on the website finecoassetmanagement.com.