I trend del futuro in un solo investimento
Cogli le opportunità dei megatrends mondiali
FAM Megatrends è il nuovo fondo di fondi che investe sui trend di crescita dell'umanità a più alto potenziale e li combina in un portafoglio tematico altamente innovativo.
Investi ora su
FAM MegaTrends coglie le opportunità di 8 grandi trend mondiali, attraverso un unico portafoglio diversificato e gestito attivamente da Fineco Asset management.
Con un solo prodotto, investi su 8 temi trend che stanno cambiando il mondo.
Puoi investire sul futuro con un importo minimo di sottoscrizione pari 1.000 euro
Puoi investire anche un pò per volta, tramite PAC, a partire da 50 euro al mese.
I Fondi sono selezionati con metodo da un team di gestione dedicato
Questa è una comunicazione di marketing. Si prega di consultare il prospetto e il KIID di FAM MegaTrends prima di prendere una decisione finale di investimento. Il prospetto e il KIID sono disponibili anche sul sito finecobank.com, presso i consulenti finanziari Fineco nonché sul sito finecoassetmanagement.com. Il comparto FAM MegaTrends è a gestione attiva e non è gestito con riferimento ad un benchmark.
Nel tempo il valore dell'investimento e il rendimento che ne deriva possono aumentare così come diminuire.
Profilo di Rischio e di Rendimento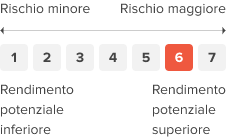 *SRRI = 6. L'indicatore del rischio sopra indicato classifica il rischio e il rendimento potenziali ed è basato sulla volatilità a medio termine (entità delle fluttuazioni, al rialzo e al ribasso, del prezzo effettivo o stimato delle quote del Comparto nel corso di cinque anni). Per maggiori informazioni fare riferimento al documento denominato "Informazioni chiave per gli investitori" (KIID)
L'indicatore del rischio rispecchia le condizioni di mercato degli ultimi anni e potrebbe non rilevare adeguatamente i seguenti ulteriori rischi significativi del Comparto:
L'investimento nel Fondo non deve costituire una parte rilevante del proprio portafoglio di investimenti e potrebbe non essere adatto a tutti gli investitori.
Rischio operativo: errori od omissioni umane, errori di processo, interruzioni del sistema o eventi esterni possono dare luogo a perdite.
Rischio connesso ai derivati: i derivati generano un effetto leva nel Comparto e potrebbero amplificarne i guadagni o le perdite in seguito alle variazioni del valore degli investimenti sottostanti.
Rischio di controparte: Possono verificarsi perdite a causa di inadempienza delle controparti dei derivati relativamente al Comparto e nel caso in cui le garanzie finanziarie non siano sufficienti a coprire il rischio.
Rischio connesso alle materie prime: Il comparto può esporsi indirettamente alle materie prime attraverso contratti derivati. In aggiunta al rischio generale proprio dei derivati, i derivati su materie prime possono diventare illiquidi durante periodi di fluttuazioni significative dei prezzi e possono verificarsi perdite per il Comparto.
Rischio di liquidità: Alcune perdite potrebbero verificarsi nel caso in cui avverse condizioni di mercato incidono negativamente sull'abilità di vendere assets in un determinato momento e ad un prezzo ragionevole.
Maggiori informazioni sui rischi sono disponibili nel prospetto Sezione "Risk factor". La decisione di investire in detto fondo deve tenere conto di tutti i suoi obiettivi e le sue caratteristiche descritte nel relativo prospetto e nei KIID. Maggiori informazioni sulle politiche di investimento in tema di sostenibilità di Fineco Asset Management sono disponibili in inglese alla pagina finecoassetmanagement.com/sustainability.
FAM MegaTrends è un comparto di FAM Evolution ICAV, un organismo di investimento collettivo di diritto irlandese di tipo aperto avente una struttura «a ombrello» multicomparto e multiclasse, istituito e gestito da Fineco Asset Management DAC, società di gestione collettiva del risparmio di diritto irlandese, autorizzata dalla Central Bank of Ireland. Fineco Asset Management D.A.C fa parte del gruppo FinecoBank.
Il gestore o la società di gestione può decidere di porre fine alla commercializzazione dei suoi organismi di investimento collettivo in conformità dell'articolo 93 bis della direttiva 2009/65/CE. Gli investitori possono trovare una sintesi dei loro principali diritti in lingua inglese sul sito finecoassetmanagement.com
There is no guarantee of a positive return or repayment of the initial capital.