USA, Europa, Cina. Le tre economie alla guida della crescita mondiale in un'unica strategia sostenibile.
ESG Target Global Coupon 2026 FAM Fund è la soluzione innovativa che unisce una graduale esposizione ai mercati che trainano l'economia globale e una remunerazione annuale della componente non ancora investita in azionario*.
I motori dell'economia mondiale in
un unico prodotto sostenibile
ESG Target Global Coupon 2026 FAM Fund è il prodotto pensato per chi vuole valorizzare i propri investimenti, accedendo gradualmente al mercato globale e potendo contare anche su un coupon annuale per i prossimi 5 anni*.

ESPOSIZIONE AL MERCATO GLOBALE
GRADUALE E
AUTOMATIZZATA
attraverso acquisti programmati e cogliendo le situazione più favorevoli

OBIETTIVO DI COUPON ANNUO

lordo e riferito alla parte di portafoglio non ancora investita nell'azionario

PORTAFOGLIO BILANCIATO
50%
di esposizione azionaria media al mercato cinese nel corso dei 5 anni di investimento

INVESTIMENTO SOSTENIBILE
ANALISI DEI FATTORI
ESG
al fine di garantire valore nel lungo periodo, per l'investitore oltre che per il pianeta
L'opportunità di un'esposizione globale
Negli ultimi 40 anni circa, Stati Uniti, Europa e Cina hanno rappresentato circa il 65% del PIL mondiale. E al di là di correzioni legate a fasi di recessione temporanee, ci si aspetta che potranno crescere anche nel 2022, rispettivamente nell'ordine del 3.5%, 4% e 5.6%.
Trend del PIL globale. 1980 - 2026. (PIL in miliardi di dollari)
In evidenza il PIL cumulato di Stati Uniti, Europa e Cina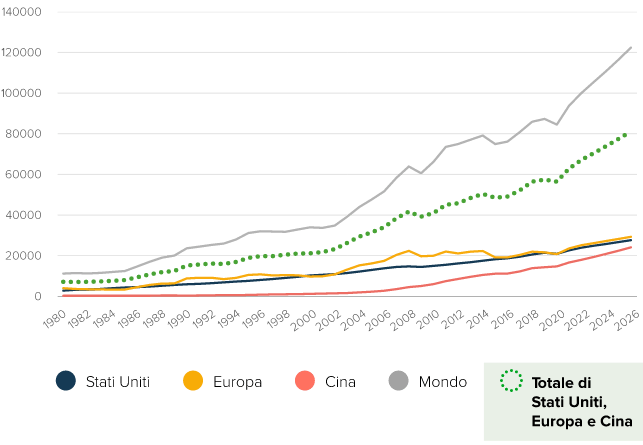 Fonte: Fondo Monetario Internazionale
L'esposizione graduale a queste tre aree permette di allocare lungo la curva della ripresa economica sfruttando eventuali momenti di incertezza dei mercati per esporsi su tutti i settori delle rispettive economie in maniera tale da non doversi curare del timing di mercato e quindi, con un orizzonte di medio periodo, non doversi concentrare sul tema settoriale ciclico o difensivo nello svolgersi della ripresa economica.
Investimento programmato in 3 passi
Non devi preoccuparti di investire al momento giusto, pensa a tutto ESG Target Global Coupon 2026 FAM Fund.

Scegli quanto investire, a partire da soli 1000 euro

Inizi con un portafoglio con bassa esposizione al mercato azionario globale

Nel tempo aumenti l'esposizione attraverso acquisti programmati
Il portafoglio viene progressivamente ribilanciato aumentando nel tempo l'investimento nel mercato azionario di USA, Europa e Cina - da un iniziale 25% e fino a raggiungere il 75% al termine dei 5 anni. E in caso di importanti correzioni del mercato identificate come opportunità di acquisto, il Gestore può utilizzare la funzione "Boost" per accelerare sulla pianificazione e anticipare gli investimenti programmati.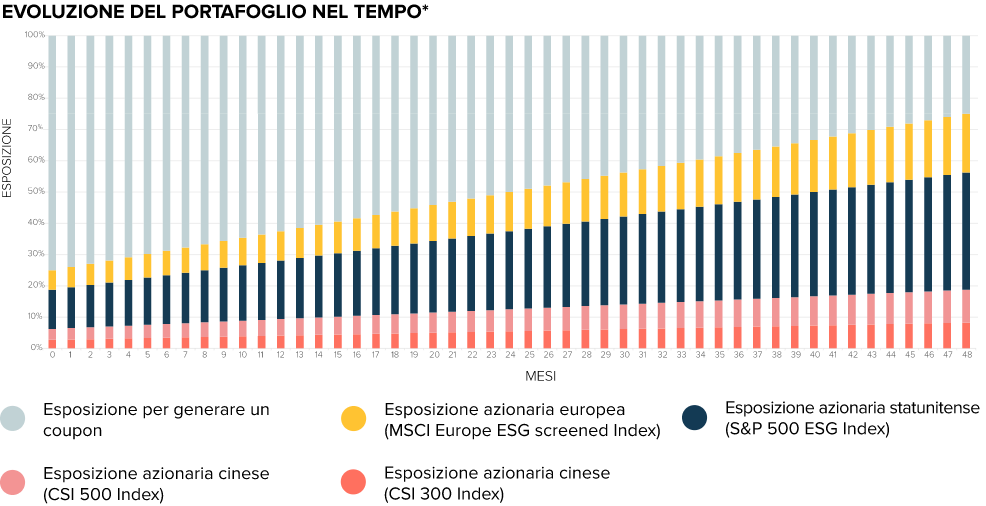 I primi 2 mesi il fondo è esposto alla sola componente non azionaria. Il grafico si riferisce solamente al periodo successivo al periodo di sottoscrizione. L'investimento iniziale in azioni Globali pari al 25% sarà distribuito nel corso del mese di settembre in quattro operazioni differenti di 6,25%

** SRRI = 5. L'indicatore del rischio indicato classifica il rischio e il rendimento potenziali ed è basato sulla volatilità a medio termine (entità delle fluttuazioni, al rialzo e al ribasso, del prezzo effettivo o stimato delle quote del Comparto nel corso di cinque anni). Per maggiori informazioni fare riferimento al documento denominato "Informazioni chiave per gli investitori" (KIID).
Investi ora su

Sottoscrivi ESG Target Global Coupon 2026 FAM Fund per cogliere l'opportunità di ottenere un rendimento da dividendi sul mercato globale, esponendoti alle maggiori regioni economie mondiali (USA, Europa, Cina) con un portafoglio gestito attivamente da Fineco Asset Management:

Ti esponi gradualmente al mercato azionario globale, a partire da soli 1000 euro

Puoi ottenere un coupon annuo sulla parte non investita nel mercato azionario globale

Accedi ad una strategia efficiente difficilmente realizzabile con acquisti e vendite "fai da te"

Puoi sottoscriverlo entro il 6 dicembre 2021, salvo chiusura anticipata o proroga
ACCEDI E INVESTI ORA
direttamente dalla sezione Consulenza > Ricerca fondi > ESG Target Global Coupon 2026 II FAM Fund
Transparency, quality, efficiency
Fineco Asset Management was created to generate even more value for customers and in partnership with leading global investment companies it offers quality solutions putting the best skills on the market at the disposal of investors.





*Il coupon indicato è l'obiettivo di rendimento annuale del fondo della parte del portafoglio non investita nell'azionario Globale, per i primi 5 anni, stimato sulla base del rendimento atteso a scadenza del portafoglio iniziale. Non vi è garanzia del suo effettivo conseguimento.