USA, Europa, Cina. Le tre economie alla guida della crescita mondiale in un'unica strategia ESG.
ESG Target Global Coupon 2026 Fineco AM Fund V è la soluzione innovativa che unisce una graduale esposizione ai mercati che trainano l'economia globale e una remunerazione annuale della componente non ancora investita in azionario*.
I motori dell'economia mondiale in
un unico prodotto ESG
ESG Target Global Coupon 2026 Fineco AM Fund V è il prodotto pensato per chi vuole valorizzare i propri investimenti, accedendo gradualmente al mercato globale e potendo contare anche su un coupon annuale per i prossimi 4 anni*.

ESPOSIZIONE AL MERCATO GLOBALE
GRADUALE E
AUTOMATIZZATA
attraverso acquisti programmati e cogliendo le situazione più favorevoli

OBIETTIVO DI COUPON ANNUO

lordo e riferito alla parte di portafoglio non ancora investita nell'azionario

PORTAFOGLIO BILANCIATO
50%
di esposizione azionaria media al mercato cinese nel corso dei 4 anni di investimento

INVESTIMENTO SOSTENIBILE
ANALISI DEI FATTORI
ESG
al fine di garantire valore nel lungo periodo, per l'investitore oltre che per il pianeta
L'opportunità di un'esposizione globale
Negli ultimi 40 anni circa, Stati Uniti, Europa e Cina hanno rappresentato circa il 65% del PIL mondiale. E al di là di correzioni legate a fasi di recessione temporanee, ci si aspetta che potranno crescere anche nel 2022.
Trend del PIL globale. 1980 - 2026. (PIL in miliardi di dollari)
In evidenza il PIL cumulato di Stati Uniti, Europa e Cina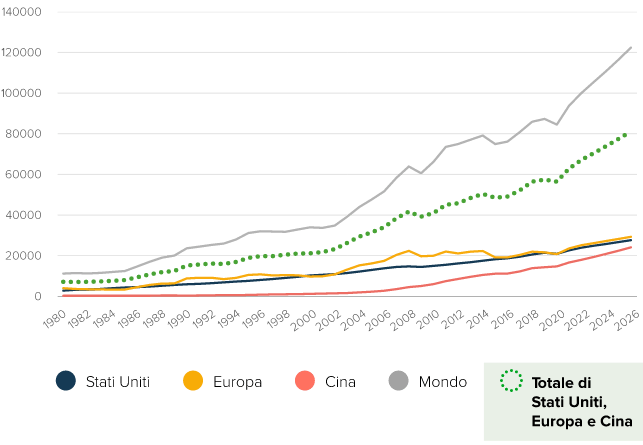 Fonte: Fondo Monetario Internazionale
L'esposizione graduale a queste tre aree permette di allocare lungo la curva della ripresa economica sfruttando eventuali momenti di incertezza dei mercati per esporsi su tutti i settori delle rispettive economie in maniera tale da non doversi curare del timing di mercato e quindi, con un orizzonte di medio periodo, non doversi concentrare sul tema settoriale ciclico o difensivo nello svolgersi della ripresa economica.
Metodo «Target»: investimento programmato sulla crescita globale
Non devi preoccuparti di investire al momento giusto sulla crescita mondiale: pensa a tutto ESG Target Global Coupon 2026 Fineco AM Fund V in automatico. L'obiettivo del fondo è di ottenere una graduale esposizione al tema attraverso un portafoglio gestito attivamente di fondi selezionati che investono nel comparto azionario globale su un orizzonte temporale di 4 anni.

Tu scegli solo quanto investire, a partire da 1000 euro.

L'investimento parte con un portafoglio con bassa esposizione al mercato azionario.

Mensilmente, in automatico, si aggiunge esposizione al mercato azionario globale.
Il portafoglio viene progressivamente ribilanciato aumentando nel tempo l'investimento nel mercato azionario di USA, Europa e Cina - da un iniziale 25% e fino a raggiungere il 75% al termine dei 4 anni. E in caso di importanti correzioni del mercato identificate come opportunità di acquisto, il Gestore può utilizzare la funzione "Boost" per accelerare sulla pianificazione e anticipare gli investimenti programmati.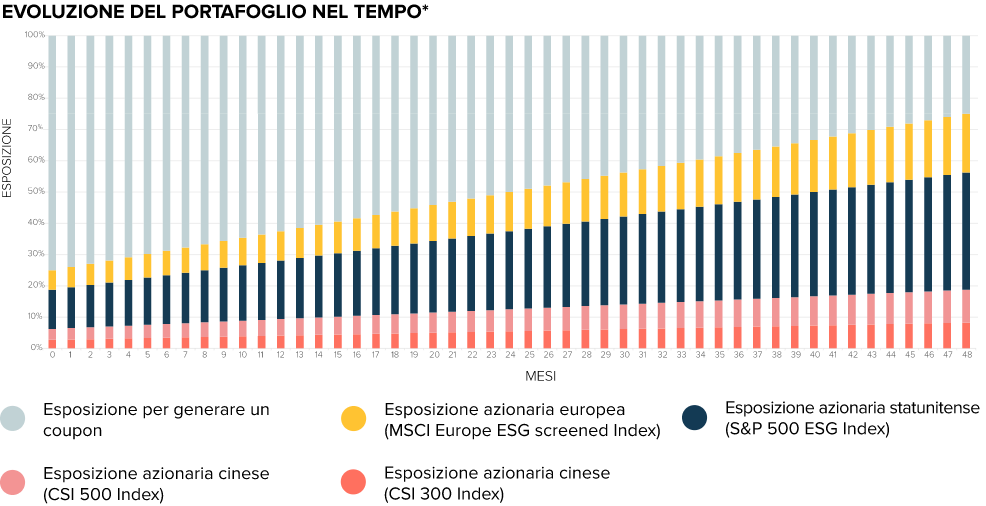 I primi 2 mesi il fondo è esposto alla sola componente non azionaria. Il grafico si riferisce solamente al periodo successivo al periodo di sottoscrizione. L'investimento iniziale in azioni Globali pari al 25% sarà distribuito settimanalmente dopo la chiusura del periodo di sottoscrizione in quattro operazioni differenti pari al 6,5% ciascuna.
Investi ora su

Cogli l'opportunità di ottenere un rendimento da dividendi sul mercato globale, esponendoti alle maggiori regioni economie mondiali (USA, Europa, Cina) con un portafoglio gestito attivamente da Fineco Asset Management:

Ti esponi gradualmente al mercato azionario globale, a partire da soli 1000 euro

Puoi ottenere un coupon annuo sulla parte non investita nel mercato azionario globale

Accedi ad una strategia efficiente difficilmente realizzabile con acquisti e vendite "fai da te"

Puoi sottoscriverlo entro l'8 agosto 2022, salvo chiusura anticipata o proroga
Questa è una comunicazione di marketing. Si prega di consultare il prospetto e il KIID prima di prendere una decisione finale di investimento. Il prospetto e il KIID sono disponibili anche sul sito finecobank.com, presso i consulenti finanziari Fineco nonché sul sito finecoassetmanagement.com.
*Il coupon indicato è l'obiettivo di rendimento annuale del fondo della parte del portafoglio non investita nell'azionario globale, per i primi 4 anni, stimato sulla base del rendimento atteso a scadenza del portafoglio iniziale: non vi è garanzia del suo effettivo conseguimento. Il rendimento esposto è al lordo degli oneri fiscali previsti per legge.
Nel tempo il valore dell'investimento e il rendimento che ne deriva possono aumentare così come diminuire. Poiché il Fondo può essere esposto per più del 20% ai mercati emergenti, un investimento nel Fondo non dovrebbe costituire una parte sostanziale di un portafoglio di investimento e potrebbe non essere adatto a tutti gli investitori.
Profilo di Rischio e di Rendimento

Ulteriori rischi significativi
L'indicatore del rischio rispecchia le condizioni di mercato degli ultimi anni e potrebbe non rilevare adeguatamente i seguenti ulteriori rischi significativi del Comparto:
Rischio operativo: errori od omissioni umane, errori di processo, interruzioni del sistema o eventi esterni possono dare luogo a perdite.
Rischio connesso ai derivati: i derivati generano un effetto leva nel Comparto e potrebbero amplificarne i guadagni o le perdite in seguito alle variazioni del valore degli investimenti sottostanti.
Rischio di controparte: il fallimento delle controparti in derivati del Comparto qualora gli accordi sul collaterale si rivelassero insufficienti per coprire tale rischio, può dare luogo a perdite.
Rischio di credito: il livello di protezione offerta dal Comparto non è garantito ed è sempre soggetto al rischio di default dell'emittente degli investimenti del fondo acquistati dal Comparto.
Rischio di liquidità: Alcune perdite potrebbero verificarsi nel caso in cui avverse condizioni di mercato incidono negativamente sull'abilità di vendere assets in un determinato momento e ad un prezzo ragionevole.
Maggiori informazioni sui rischi sono disponibili nel prospetto Sezione "Risk factor". Il Comparto è gestito attivamente senza alcun riferimento ad un benchmark. La decisione di investire in detto fondo deve tenere conto di tutti i suoi obiettivi e le sue caratteristiche descritte nel relativo prospetto e nei KIID. Maggiori informazioni sulle politiche di investimento in tema di sostenibilità di Fineco Asset Management sono disponibili in inglese alla pagina finecoassetmanagement.com/sustainability.
ESG Global Coupon 2026 Fineco AM Fund IV è un comparto di FAM Series UCITS ICAV, un fondo UCITS irlandese con patrimoni autonomi e separati, istituito e gestito da Fineco Asset Management DAC società di gestione collettiva del risparmio di diritto irlandese, autorizzata dalla Central Bank of Ireland. Fineco Asset Management D.A.C fa parte del gruppo FinecoBank.
Il gestore o la società di gestione può decidere di porre fine alla commercializzazione dei suoi organismi di investimento collettivo in conformità dell'articolo 93 bis della direttiva 2009/65/CE. Gli investitori possono trovare una sintesi dei loro principali diritti in lingua inglese sul sito finecoassetmanagement.com
La funzione "boost" è a discrezione del Gestore e prevede la possibilità di anticipare l'investimento nell'azionario Globale, quando il Gestore osserva occasioni favorevoli sul mercato, un ammontare mensile pari sino a 6 volte quello previsto dal piano graduale e automatizzato.
Transparency, quality, efficiency
Fineco Asset Management was created to generate even more value for customers and in partnership with leading global investment companies it offers quality solutions putting the best skills on the market at the disposal of investors.





*Il coupon indicato è l'obiettivo di rendimento annuale del fondo della parte del portafoglio non investita nell'azionario Globale, per i primi 4 anni, stimato sulla base del rendimento atteso a scadenza del portafoglio iniziale. Non vi è garanzia del suo effettivo conseguimento.