L'INVESTIMENTO GLOBALE IN INFRASTRUTTURE A TUA DISPOSIZIONE
Comunicazione di marketing. Prima della sottoscrizione consultare prospetto e KIID.
Infrastrutture: pilastri di sviluppo e crescita economica
ESG Target Global Infrastructure Coupon 2026 Fineco AM Fund è il fondo pensato per chi vuole partecipare al tema delle infrastrutture su scala globale con una esposizione graduale alle aree che più investono in questo settore, potendo contare anche su un coupon annuale*.
Il tema delle infrastrutture in un unico prodotto ESG
Un fondo che in un'unica strategia ESG unisce una graduale esposizione al mercato azionario globale nel settore delle infrastrutture (investendo nelle tre aree geografiche che maggiormente investono nel settore) e una remunerazione per la componente non ancora investita sull'azionario globale ed esposta a rischi minori*.
ESPOSIZIONE AL MERCATO GLOBALE
attraverso acquisti programmati e cogliendo le situazioni favorevoli
OBIETTIVO DI COUPON ANNUO*
tasso lordo della componente non investita in azioni ma in obbligazioni di primari istituti bancari italiani
CARATTERISTICHE AMBIENTALI E/O SOCIALI
integrando l'analisi dei fattori ESG nel processo di investimento
*Il coupon indicato è l'obiettivo di rendimento annuale del fondo della parte del portafoglio non investita nella componente azionaria, per i primi 4 anni, stimato sulla base del rendimento atteso a scadenza del portafoglio iniziale. Non vi è garanzia del suo effettivo conseguimento.
Al centro dell'agenda politica globale
Si stima a livello globale che gli investimenti in infrastrutture raggiungeranno 3,8 trilioni di dollari annui nel 2040, un incremento del 67% rispetto al valore del 2015 in termini reali e che fra 2016 e il 2040 Stati Uniti, Europa e Cina investiranno rispettivamente circa 9, 12 e 26 trilioni di dollari per aggiornare, migliorare e espandere i propri asset infrastrutturali.

PIANO BIDEN
1+
trilione di dollari in USA

GREEN DEAL
600+
miliardi di euro in Europa

BELT AND ROAD
1+
trilione di dollari in Cina
Fonti:
«Global Infrastructure Outlook - Infrastructure Investment needs, 50 countries, 7 sectors to 2040». Oxford Economics, Global Infrastructure Hub, a G20 initiative «President Binde's Bipartisan Infrastructure Law»
EU Commission «A European Green Deal»
F. Umbach «How China's Belt and Road Initiative is faring». Geopolitical Intelligence Services AG
Metodo «Target»: investimento programmato
Non devi preoccuparti di investire al momento giusto sulle infrastrutture: pensa a tutto ESG Target Global Infrastructure Coupon 2026 Fineco AM Fund. Il prodotto finanziario per investire gradualmente nel tema delle infrastrutture globali e che investe nel comparto azionario del settore su un orizzonte temporale di 4 anni.

Tu scegli solo quanto investire, a partire da 1000 euro.

L'investimento parte con un portafoglio con bassa esposizione al mercato azionario.

Mensilmente, in automatico, si aggiunge esposizione al mercato azionario globale.
Evoluzione del portafoglio nel tempo*
*i primi 2 mesi il fondo è esposto alla sola componente non azionaria. Il grafico si riferisce solamente al periodo successivo al periodo di sottoscrizione. L'investimento iniziale in azioni Globali pari al 25% sarà distribuito nel mese seguente alla chiusura delle sottoscrizioni.
Investi ora su
Sottoscrivi ESG Target Global Infrastructure Coupon 2026 Fineco AM Fund per cogliere l'opportunità di crescita del trend degli investimenti globali in infrastrutture con un portafoglio gestito attivamente da Fineco Asset Management:
Investi a partire da soli 1000 euro.
Ti esponi gradualmente al mercato azionario globale sul tema delle infrastrutture.
Accedi ad una strategia difficilmente realizzabile con acquisti e vendite «fai da te».
Puoi sottoscriverlo entro il 2 novembre 2022, salvo chiusura anticipata o proroga.
Questa è una comunicazione di marketing. Si prega di consultare il prospetto e il KIID di ESG Target Global Infrastructure Coupon 2026 Fineco AM Fundprima di prendere una decisione finale di investimento. Il prospetto e il KIID sono disponibili anche sul sito finecobank.com, presso i consulenti finanziari Fineco nonché sul sito finecoassetmanagement.com. Il comparto ESG Target Global Infrastructure Coupon 2026 Fineco AM Fund è a gestione attiva e non è gestito con riferimento ad un benchmark. *Il coupon indicato è l'obiettivo di rendimento annuale del fondo della parte del portafoglio non investita nella componente azionaria, per i primi 4 anni, stimato sulla base del rendimento atteso a scadenza del portafoglio iniziale. Non vi è garanzia del suo effettivo conseguimento. Nel tempo il valore dell'investimento e il rendimento che ne deriva possono aumentare così come diminuire.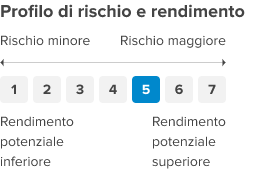 SRRI = 5. L'indicatore del rischio sopra indicato classifica il rischio e il rendimento potenziali ed è basato sulla volatilità a medio termine (entità delle fluttuazioni, al rialzo e al ribasso, del prezzo effettivo o stimato delle quote del Comparto nel corso di cinque anni). Per maggiori informazioni fare riferimento al documento denominato "Informazioni chiave per gli investitori" (KIID)
Ulteriori rischi significativi
L'indicatore del rischio rispecchia le condizioni di mercato degli ultimi anni e potrebbe non rilevare adeguatamente i seguenti ulteriori rischi significativi del Comparto:
L'investimento nel Fondo non deve costituire una parte rilevante del proprio portafoglio di investimenti e potrebbe non essere adatto a tutti gli investitori.
Rischio operativo: errori od omissioni umane, errori di processo, interruzioni del sistema o eventi esterni possono dare luogo a perdite.
Rischio connesso ai derivati: i derivati generano un effetto leva nel Comparto e potrebbero amplificarne i guadagni o le perdite in seguito alle variazioni del valore degli investimenti sottostanti.
Rischio di controparte: il fallimento delle controparti in derivati del Comparto, qualora gli accordi sul collaterale si rivelassero insufficienti per coprire tale rischio, può dare luogo a perdite.
Rischio di credito: il livello di protezione offerta dal Comparto non è garantito ed è sempre soggetto al rischio di default dell'emittente degli investimenti del fondo acquistati dal Comparto.
Rischio di liquidità: Alcune perdite potrebbero verificarsi nel caso in cui avverse condizioni di mercato incidono negativamente sull'abilità di vendere assets in un determinato momento e ad un prezzo ragionevole.
Rischio mercati emergenti: alcuni dei Paesi nei quali il Comparto investe possono implicare maggiori rischi politici, legali, economici e di liquidità rispetto ad investimenti in Paesi più sviluppati.
Maggiori informazioni sui rischi sono disponibili nel prospetto Sezione "Risk factor". Il Comparto è gestito attivamente senza alcun riferimento ad un benchmark. La decisione di investire in detto fondo deve tenere conto di tutti i suoi obiettivi e le sue caratteristiche descritte nel relativo prospetto e nei KIID. Maggiori informazioni sulle politiche di investimento in tema di sostenibilità di Fineco Asset Management sono disponibili in inglese alla pagina finecoassetmanagement.com/sustainability
ESG Target Global Infrastructure Coupon 2026 Fineco AM Fund è un comparto di FAM Series UCITS ICAV, un fondo UCITS irlandese con patrimoni autonomi e separati, istituito e gestito da Fineco Asset Management DAC società di gestione collettiva del risparmio di diritto irlandese, autorizzata dalla Central Bank of Ireland. Fineco Asset Management D.A.C fa parte del gruppo FinecoBank.
Il gestore o la società di gestione può decidere di porre fine alla commercializzazione dei suoi organismi di investimento collettivo in conformità dell'articolo 93 bis della direttiva 2009/65/CE. Gli investitori possono trovare una sintesi dei loro principali diritti in lingua inglese sul sito finecoassetmanagement.com
La funzione "boost" è a discrezione del Gestore e prevede la possibilità di anticipare l'investimento nell'azionario Globale, quando il Gestore osserva occasioni favorevoli sul mercato, un ammontare mensile pari sino a 6 volte quello previsto dal piano graduale e automatizzato.
Messaggio pubblicitario con finalità promozionale. Per tutte le condizioni relative ai prodotti e servizi pubblicizzati occorre fare riferimento ai fogli informativi e alla documentazione informativa prescritta dalla normativa vigente, disponibili sul sito finecobank.com e presso i consulenti finanziari abilitati all'offerta fuori sede Fineco. Tutti i prodotti e servizi offerti sono dedicati ai correntisti Fineco. Per poter operare in strumenti finanziari è necessario avere un deposito titoli attivo presso Fineco.
There is no guarantee of a positive return or repayment of the initial capital.