NON SIAMO DIVENTATI DIGITALI.
SIAMO
NATI
DIGITALI.
NON
AMIAMO LA BUROCRAZIA.
AMIAMO LA SEMPLICITÀ.
Fineco. Simplifying banking
We has had only one goal since 1999: innovate the bank to make life easier for you.
We have always invested in technology, but we trust in the unique value of human relationships.
This is why we manage to offer you a unique, extraordinary and personalized banking experience, every day.

Italy Withdrawals
Free withdrawals on the BANCOMAT® circuit if higher than €99.

Smart Withdrawal
Cardless withdrawals at the UniCredit ATMs. All you need is your smartphone.

Maxi Withdrawal
Free withdrawals up to €3,000€ from all UniCredit ATMs in Italy.

Debit Card
The free contactless card for withdrawing and paying in Italy and abroad. Find out more

Self-service deposits
You deposit Cash and Cheques unassisted, at all evolved UniCredit ATMs.

Maxi Purchase
Increase your Visa Debit maximum limit up to €5,000 for one day.

Paga con una foto
Con Fineco app paghi i bollettini inquadrando il QR Code e confermando i dati

Boundless transfers
In Italy free and unlimited. Abroad to 250 countries and in 20 different currencies.

Instant transfers
Send and receive money in real time and make payments in seconds, even from app.

Online payments
MAV, RAV, road tax, utilities, bills, taxes and duties: you can do everything online.

Telepass
You can request it online and receive it at home. Or transfer yours in 48h.

Reloads
Reload your mobile phone at zero fees, automatically.

Mortgages
Purchase, Subrogation, Liquidity and Refinancing. At fixed or floating rate. Find out more

Online loans
Request up to €50,000 directly online, on your own. Find out more

Credit lines and Lombard
Request from €3,000 to €1,000,000 of added liquidity on your account. Find out more

Pagamenti Digitali
Per pagare con la tua carta Fineco basta uno smartphone o uno smartwatch. Find out more

Multi-currency account
Diversify your liquidity and invest in 21 global currencies, in real time.

Cheques
Order cheque books and process bank drafts at home.
Check out the terms and conditions of the Fineco account
Monthly account fee

1st year Free
Free for under 28
Then €3,95€/month (47,40 €/year) reducible.Find out more

Fineco Debit Card

No fee. Home delivery for a fee (€2.25)

Free

Withdrawals on the BANCOMAT® circuit (ATMs in Italy) above €99

Free

SEPA Transfers

SEPA transfers to Switzerland and the Principality of Monaco: €9.95

Free

ATM Maxi Withdrawals (up to €3,000 per day)

Service available at all UniCredit advanced ATMs

Free

Cash and cheques Deposit

Service available at all UniCredit advanced ATMs

Free

MAV and RAV payment

Free

SEPA Direct Debit charges

Free

Payment of Form F24

Free

Mobile top-ups

Free

Chequebooks

€1.95 for home delivery

Free

Securities custody service

Free

Automatic bonds and funds transfer

Free
Multifunction,
multi benefits
Choose your VISA or Mastercard credit card. Also multifunction, with Credit, PagoBancomat and Bancomat® all together. Pay expenses in instalments as well with the Revolving, PagoFacile and Pay by Instalments options that you can enable online.
Mono or Multifunction
VISA or MasterCard
Expenses paid in instalments
Increase your maximum limit from the website or app
Multicurrency: one account, more currencies
Integrated in your EUR Fineco account, Multicurrency is the service that allows you to diversify liquidity and investments and to operate directly in the main world currencies without exchange commissions, only spreads:
Buy and sell currencies day and night, 7/7
Receive and arrange transfers using just the EUR IBAN
Trade in local currencies across global markets
Receive and reinvest dividends in foreign currency
Maximise your opportunities

With the introduction of new hours for the currency exchange service, you can buy and sell currencies day and night, even during the weekend, with just a little pause from 11 pm to 2 am.

Get a 40% reduction on the standard spread for conversions of €500,000. And if the value exceeds €1,000,000, the spread is reduced by 50%.





















The beauty of simplicity
Designed for who really uses it every day. This is why Fineco is not only simple to use, but also nice to look at.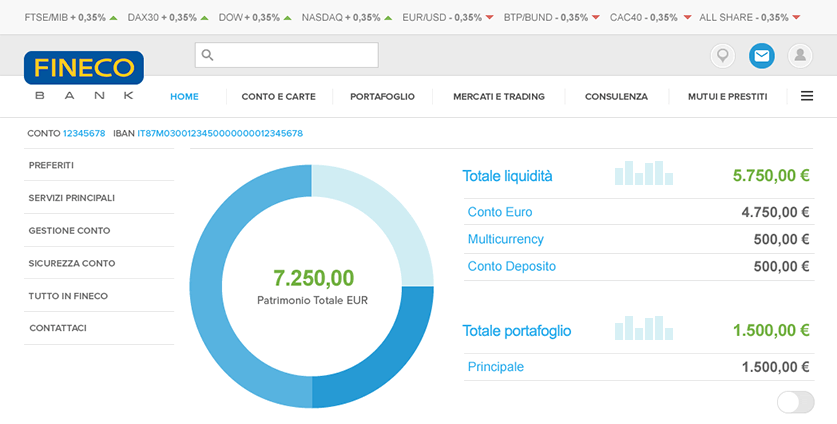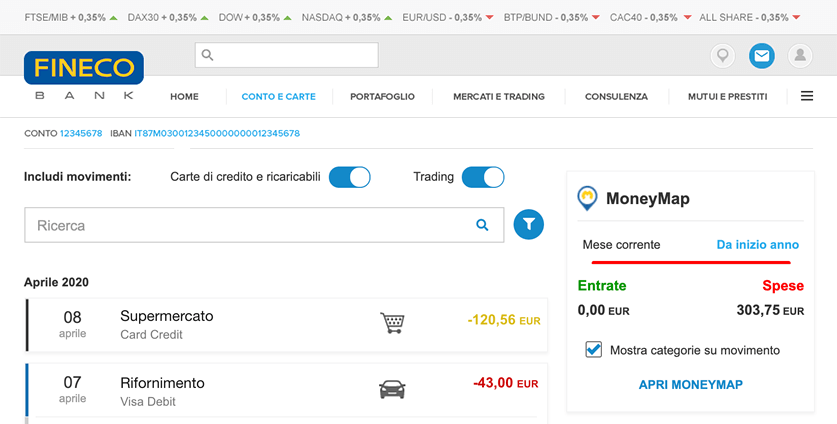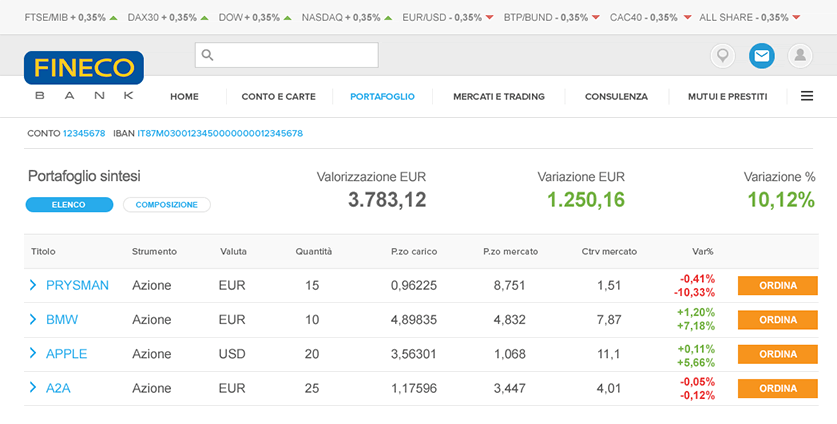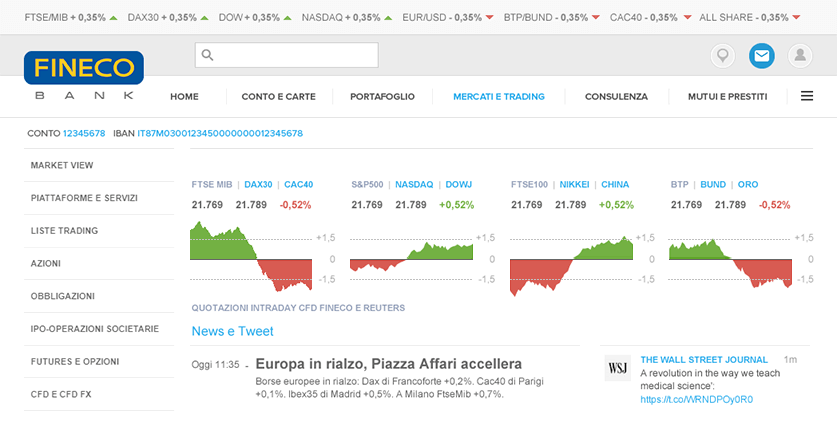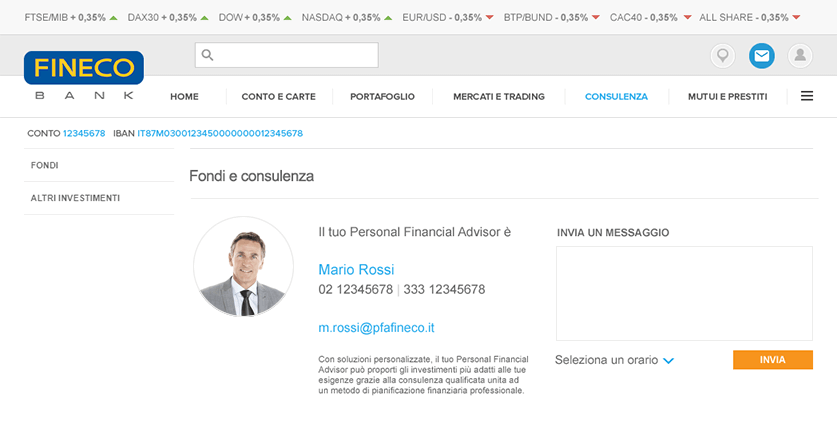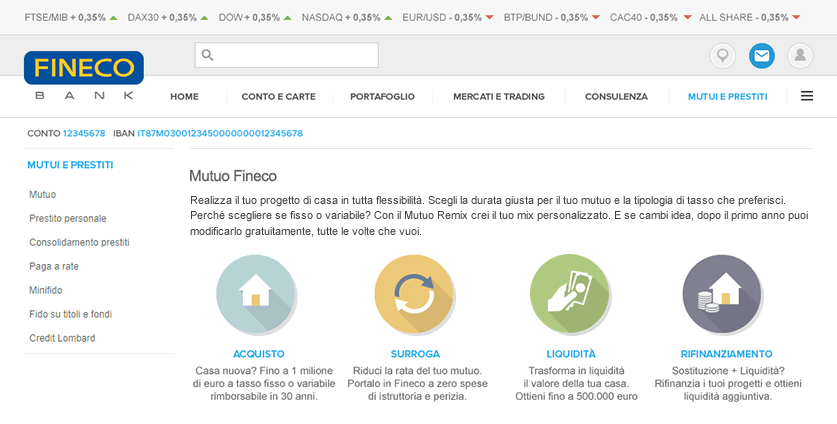 ---
The Fineco world in an app
Access with a fingerprint or FaceID and you can keep tabs on your account, cards and investments.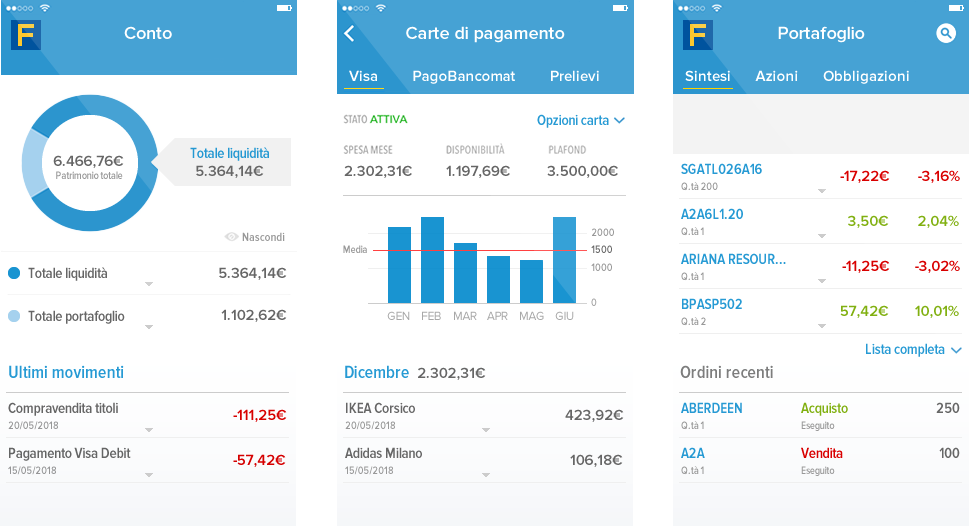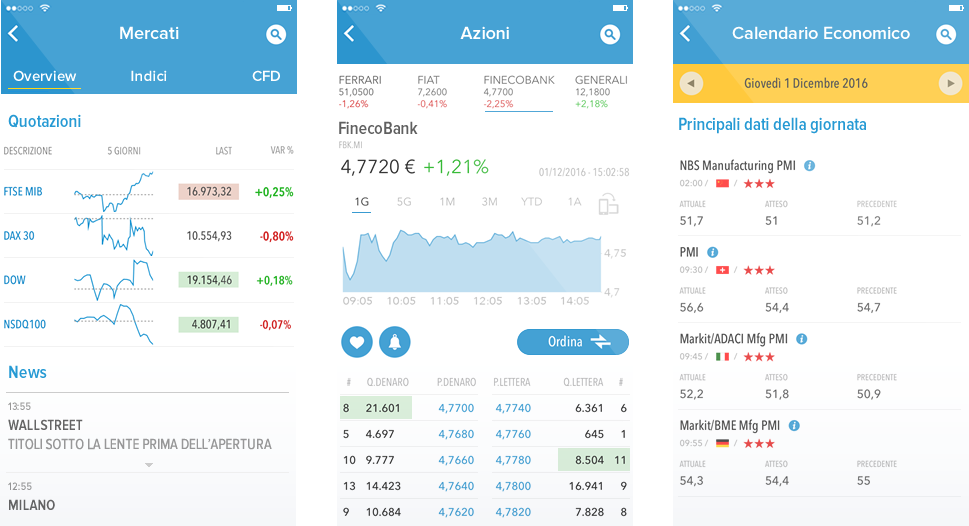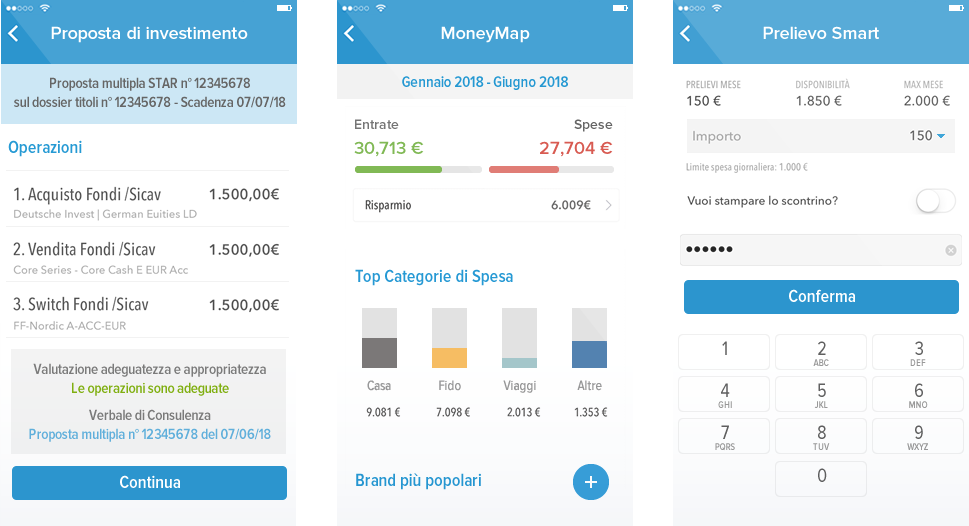 Automatic budget
MoneyMap classifies, also automatically, inflows and outflows and helps you save with a personalised budget.
View your expenses on Google Maps and you see the most widely used brands at a quick glance.
Calculate your monthly savings
Group expenses in automatic categories
Manual or automatic expense budget
Brand Map and Google Map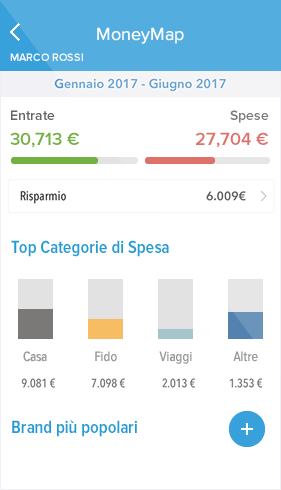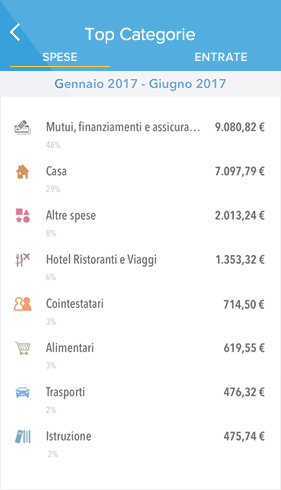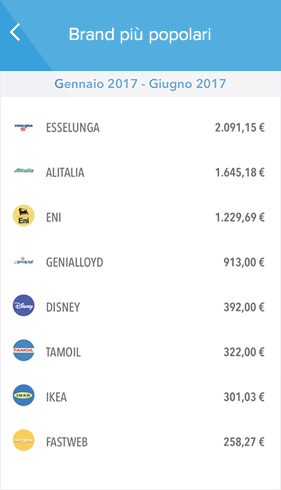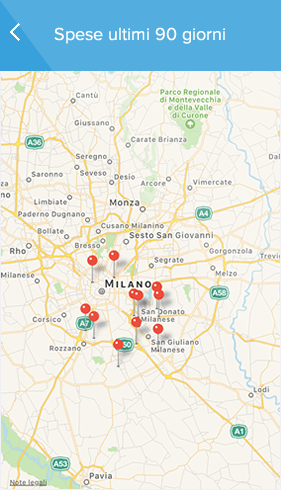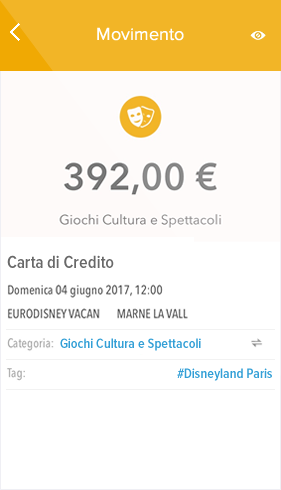 Digital when you need, personal when you want
You can do everything online or from apps, but you can also have a Personal Financial Advisor at home or at the Fineco Center.
And our Customer Care responds also on Sundays and via automated SMSs.
Access from website and apps 24/7
Over 2,500 consultants throughout Italy
Over 390 Fineco Centers
Customer care every day of the week
Smart withdrawals,
self-service deposits
Withdrawals even cardless at enabled UniCredit ATMs: all you need is the Fineco app. Withdraw up to €3,000 with MaxiWithdrawal.
You can deposit cash and cheques in the evolved UniCredit ATMs cost-free.
Cardless withdrawals too with the Fineco app
MaxiWithdrawal from €750 to €3,000
Deposit cash and cheques on UniCredit ATMs
Withdrawals around the world on VISA or MasterCard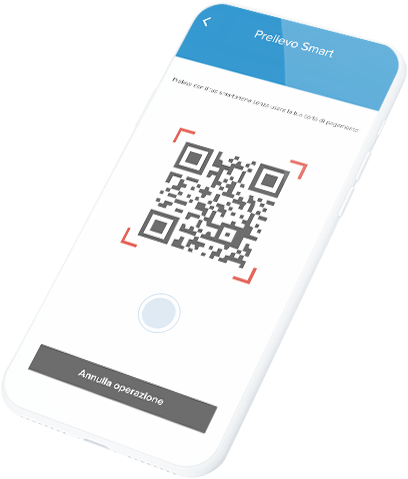 Unlimited purchases
Fineco Card Debit is the free card for making withdrawals and purchases around the world, online or in stores, without fees.
Personalise your maximum limits: up to €5,000 in a single transaction.
La usi anche in modalità "contactless" e con i Pagamenti Digitali basta associare la tua carta ai tuoi dispositivi per pagare direttamente con il tuo smartphone o il tuo smartwatch.
Quick and simple payments
Manage your account and investments anywhere. Set card limits by geographical areas or on specific websites online, change the maximum limit in real time and receive instant notifications on withdrawals and purchases.




Pay your bills also from the app, with a photo.
MAV, RAV, F24, road tax: pay and store online.
Domicile utilities in just a few clicks.
Reload your mobile phone online or with an SMS.
Fineco Gold World Card
Demand more from your card.
Change the everyday ordinary into the extraordinary with exclusive experiences and dedicated services.
Fineco works. Simply
We aren't the usual online bank, and neither are we the classic traditional bank. We are a big team made up of people that has had only one goal since 1999: innovate the bank to make life easier for you.
Open your account in just a few steps.
Ask a Personal Financial Advisor.
Sound and secure
Fineco is one of the most solid banks in Italy with a 18.36% pro-forma CET1.
We combine the best digital technologies with dozens of manual controls to guarantee you the highest security standards.
"Disposable" code for instructions
Sophisticated automatic and "manual" controls
Direct line of contact with the cybercrime authorities
Technologies with advanced cryptography




Personal Financial Advisors
In terms of customer experience
Potrai ridurre o azzerare il costo di 3,95€ accumulando dei bonus mensili.
+ 3,95€ di bonus con un mutuo Fineco
+ 3,95€ di bonus con Credit Lombard o fido su titoli
+ 3,95€ di bonus per i clienti Private
+ 3,95€ di bonus con i servizi di consulenza Plus o Advice
+ 1€ di bonus con l'accredito di stipendio o pensione
+ 1€ di bonus ogni 10.000€ di risparmio gestito (es. fondi)
+ 1€ di bonus ogni 20.000€ di titoli (es. azioni e obbligazioni)
+ 1€ di bonus con un prestito Fineco
+ 1€ di bonus con un fondo pensione
+ 1€ di bonus con una polizza salute
Ai clienti con un dossier di consulenza Advice, Plus o Stars valorizzati è garantito lo sconto integrale del costo mensile del canone.
Ai fini del calcolo del bonus si considerano i seguenti Fidi Garantiti:
Credit Lombard
Fido con Pegno
Fido garantito da titoli con Mandato a Vendere
Per ottenere il Bonus i fidi devono essere utilizzati
Rientrano nel conteggio del calcolo del bonus di 1€:
Fondi comuni d'investimento e sicav
Gestioni Patrimoniali
Assicurazioni
Rientrano nel conteggio del calcolo del bonus di 1€:
Azioni e Obbligazioni
ETF, ETC
CW & Certificates
Derivati (CFD, Futures e Opzioni)
In caso di conto cointestato e di doppio accredito dello stipendio o pensione il bonus massimo cumulabile è di 1€.
Ai fini del calcolo del bonus si considerano i seguenti Fidi Garantiti:
Credit Lombard
Fido con Pegno
Fido garantiti da titoli con Mandato a Vendere.
Per ottenere il Bonus i fidi devono essere utilizzati
Ai clienti più giovani Fineco offre lo sconto totale del canone mensile.
L'addebito del costo mensile parte dal mese successivo a quello in cui il titolare del conto compie 28 anni.
In caso di conti cointestati lo sconto è garantito solo se tutti gli intestatari hanno meno di 28 anni.