A new way to pay
Now, when you ask for a new Fineco card you can immediately activate the digital payment capabilities and use your Fineco card to pay using Apple Pay, Google PayTM, FitbitPay or Garmin Pay.
All you need is your smartphone. It's that simple.
Fineco Card Debit
The contactless card to withdraw everywhere in Italy at all ATMs and purchases with direct debits on your account.
Free BANCOMAT® ATM withdrawals everywhere in Italy above €99
Purchases from anywhere in Italy and abroad, also online
Customizable limits and ceiling directly from website and app
Maxi withdrawals up to €3,000 and max purchase up to €5,000
Available in a "virtual" version that can be used only for online or wallet payments and for withdrawals with the Smart Withdrawal feature
Maxi withdrawals: service available at all UniCredit Group advanced ATMs
Fineco Card Debit: shipping charges of €2.25.
Withdrawals: €0,80 commission fee when you withdraw up to €99.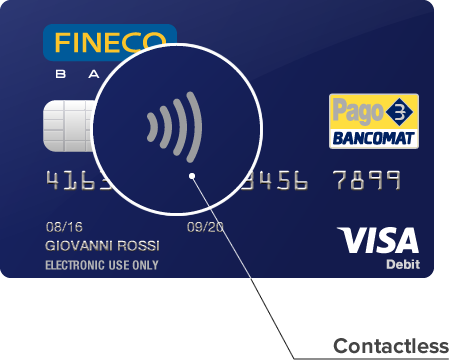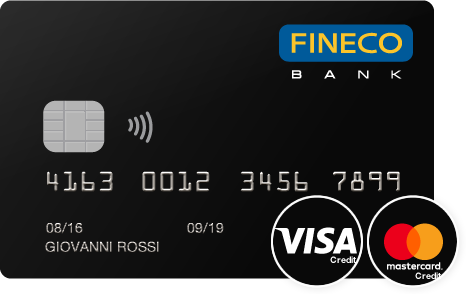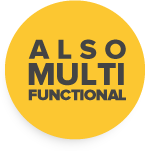 Fineco Card Credit
The mono or multifunction credit card for all needs.
Withdrawals everywhere in Italy
Request credit limit increases directly from the website or app
Free revolving option activation and charges billed the following month
Fineco Gold World
The premium credit card, with a range of benefits and exclusive services.
Credit limits start from 5,000 euros a month
Travel insurance, purchase protection and extended warranties for goods purchased with the card
Access to over 1.100 Lounge Key lounges at major airports worldwide
Unique experiences and benefits only for premium Mastercard card holders
Contactless, Apple Pay, Google Pay, Fitbit Pay and Garmin Pay enabled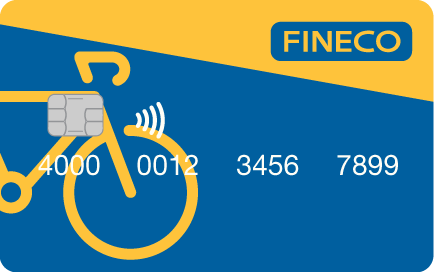 Bike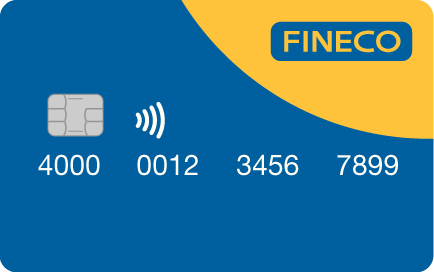 Color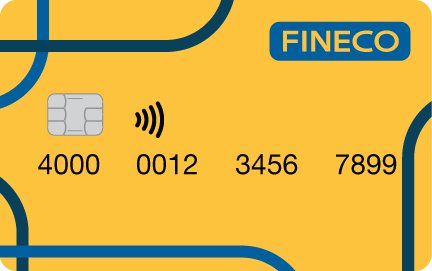 Line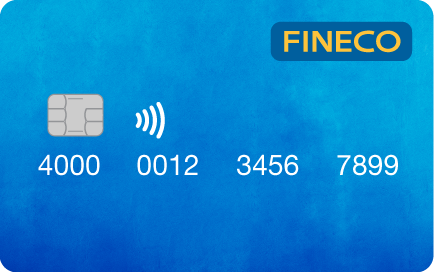 Paint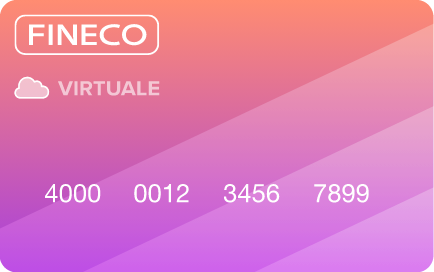 Virtual card
Richiedila in versione «virtuale» senza i costi di spedizione per limitare la produzione di plastica
Perfect for making secure online or in-store purchases. Fineco reloadable cards can also be used by under-18s and to withdraw money abroad (€2.90 per withdrawal, fixed charge). Costs just €9.95 a year, with no fees on top-ups.
Carta Extra – a loan in your pocket
A scheduled repayment card that offers you finance of up to €2,000 for your spending.

Use it when you like and pay back your purchases at a convenient fixed monthly rate.
2,000
Link card, more than just a back-up
The additional credit card to that of the primary card.
It can be associated with the Credit/Gold card or Gold World card and can share the monthly spending limit.
With Mastercard Travel Rewards you can
explore the world and save money
Shopping abroad with your Fineco Mastercard credit card has never been so rewarding.
Take advantage of discounts on your purchases with merchants participating in the Mastercard Travel Rewards programme, part of the amount you spend will be credited as cashback on your card statement.
The cardholder must be resident in Italy and at least 10 years old.