MoneyMap: your household budget
Manage your money in real time, easily and effectively, even by mobile.
fully
automatic
Analyse and save
In just a few steps, set your budget and monitor your spending to understand where, how and how much you're spending. MoneyMap does the rest: it groups your spending into automatic or personalised categories and tells you when you spend more than expected.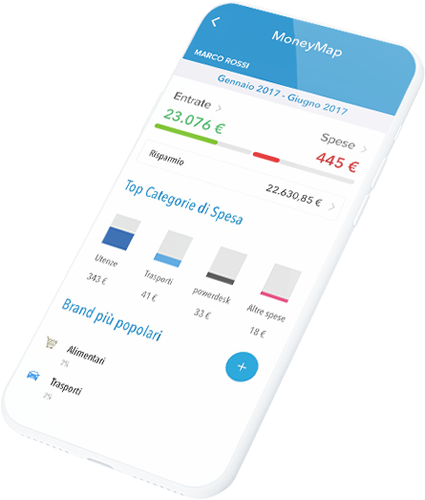 Download the Fineco app and start saving right away.
Your income and spending, always under control
With MoneyMap managing your finances is easy, fast and enjoyable, wherever you are.
Analyse and save
See a breakdown of your income, average spending and the savings you have made.
Categorise your transactions
Group income and expenses together in automatic or personalised categories. You can even create new sub-categories.
Spending widget
For each category, see the amount spent over the month and the proportion of total spending.
Set a budget
Create your own monthly or annual budget. If you spend more than expected, MoneyMap will let you know.
Manage your cash
You can even categorise withdrawals and spending in cash: the figures are automatically synchronised.
Brand Map and Google Map
Using Google Maps you can see the shops and brands where you have spent the most using your Fineco credit cards.
Where, how and how much you spend. Fully automated.
MoneyMap analyses your spending and breaks it down intelligently. Everything is automatic.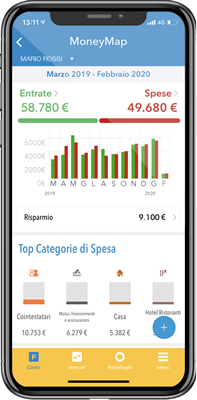 With MoneyMap, you can immediately have a quick overview of your income, spending, and savings, and you can view your expenses grouped by category.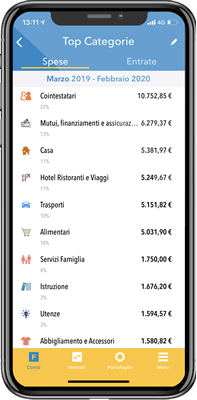 MoneyMap groups your expenses by merchandise category. So you know how you spend your money right away.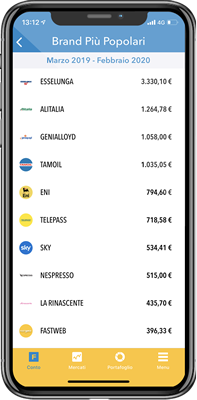 MoneyMap groups your expenses by the trademarks where you make your purchases.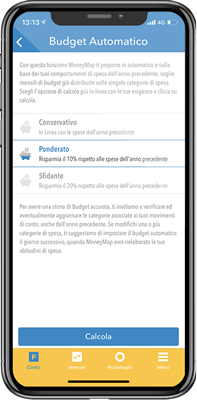 MoneyMap localises all your card payments made over the last 90 days.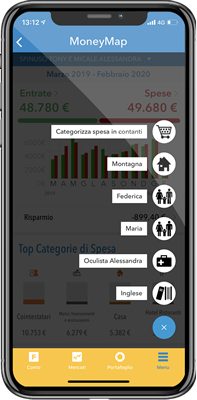 If you prefer, MoneyMap can set a budget for you,monthly or yearly, setting spending limits for each category.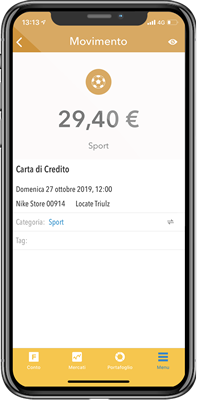 You can categorise your cash payments and withdrawals to gain more control over your expenses.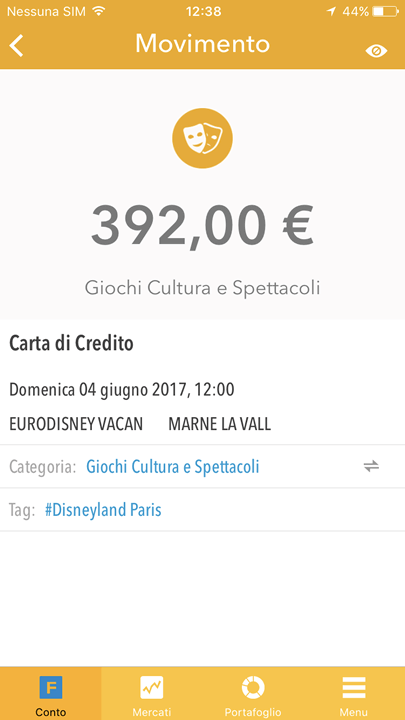 You can tag each movement and localise categorised cash payments.
Spending out of control?
Never again, with our budgets and maps.

With MoneyMap you can set a budget, monitor your spending using Google Maps and use a range of other tools to keep your portfolio under total control.

You can choose between monthly and annual budgeting and set spending limits for every category.

An automatic alert tells you when you exceed the set amount, so you can quickly adjust your spending.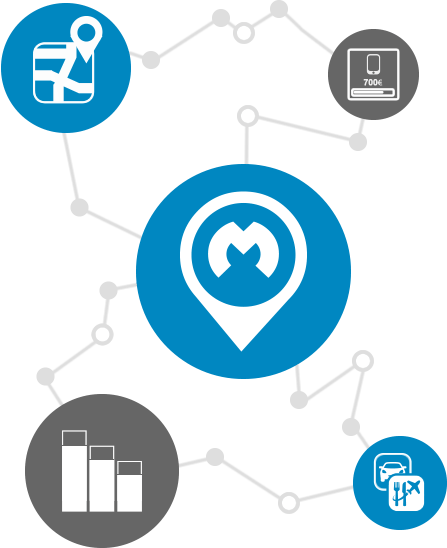 Save and monitor everything with ease
Huge range of useful services
Set up reminders and descriptions for your transactions and see where your money goes, straight from your smartphone.
Automatic budgeting
If you like, MoneyMap can build an automatic budget for you based on your spending over previous months.
Move transactions around
If you don't agree with the assigned category, you can always switch it to one of the 19 categories available.
Geolocation
Automatically view a Google map of the places where you have used your Fineco card – in Italy and worldwide.
Hidden transactions
You can decide what information to keep out of your budget. And with a click you can bring them back into view.
Your privacy is guaranteed
Only you can see your MoneyMap information. No data is ever shared externally. So you can rest easy.
Gold cards are reserved for clients who:
already have a standard Fineco card
are at least 26 years old
have a balance of at least €5,000 in their account
have been Fineco clients for at least 6 months.
In all cases, applications are subject to evaluation by Fineco, which reserves the right to refuse to issue the card, even if the above conditions have been satisfied.
The cardholder must be resident in Italy and at least 10 years old.