Account, investments and trading: all just a touch away
Download the Fineco app and make it your own app: there is nothing more personal than your savings.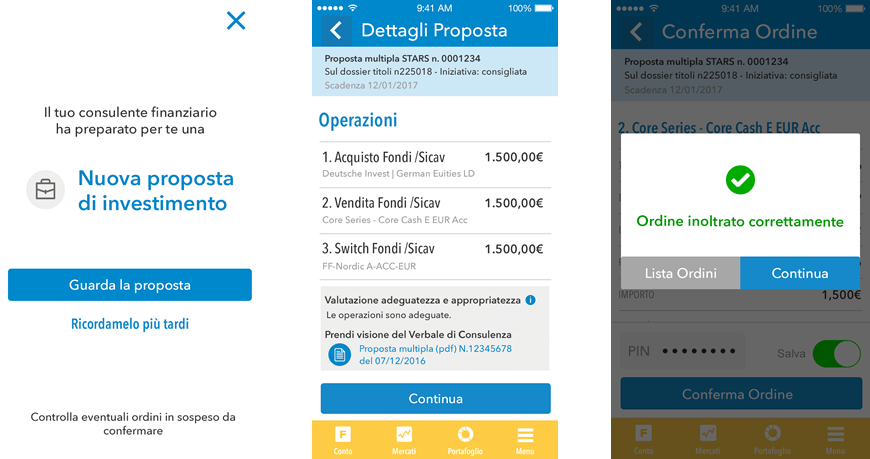 Mobile Collaboration
Faster and easier investing: receive notifications from your Personal Financial Advisor, consider their recommendations and confirm an order - whenever and wherever you like.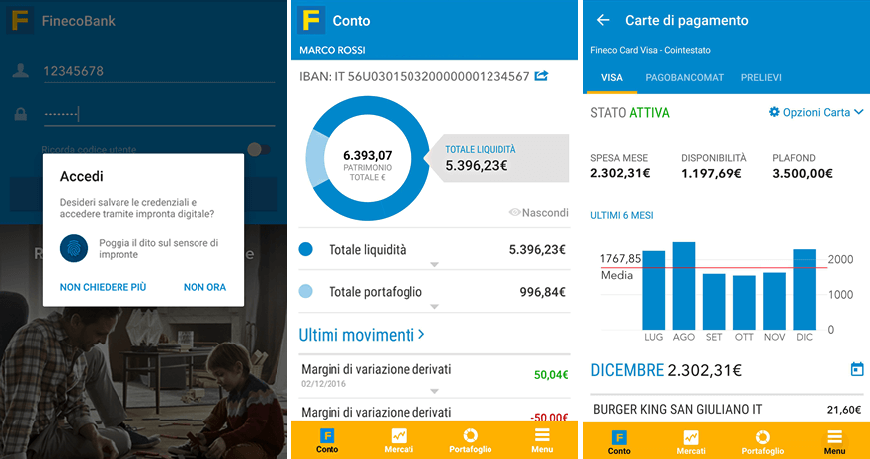 View your account and cards at any time
Top-up your phone and reloadable card, set spending limits, increase or unlock card limits to make MaxiWithdrawals of up to €3,000 or MaxiPurchase of up to €5,000. Pay bills, make MAV and RAV payments, and make transfers and payments – including internationally.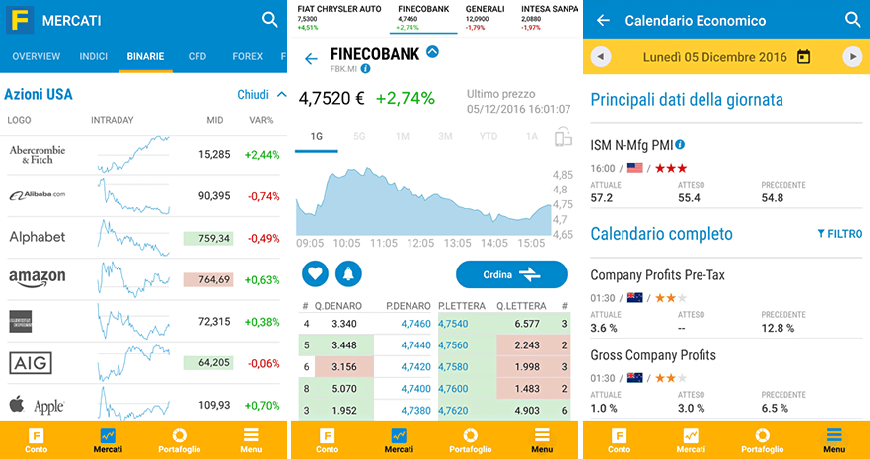 Advanced, professional trading
Immediately take advantage of movements in the markets, wherever you are: check your portfolio, get the latest updates from the world of finance and manage your orders quickly, efficiently and easily – even on the move.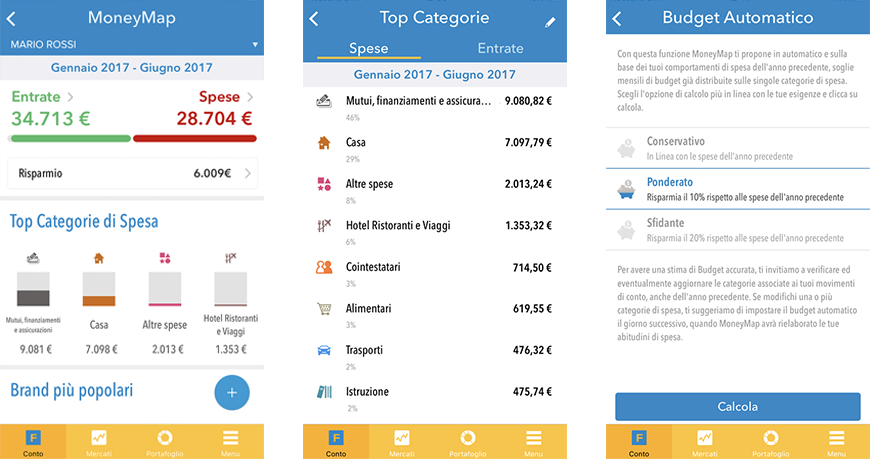 MoneyMap is also on the move
Thanks to the Fineco app, having an overview of income, spending, and savings - wherever you are and in total privacy - has never been so easy.
Fineco in an app
Login to Fineco using your fingerprint and gain instant access to banking, cards, transactions and investments. And if you want to invest or trade, the Fineco app is also a truly professional platform.
Your account
View balance and transactions of euro and multi-currency accounts.
Touch for access
Login to the app using your fingerprint.
Customize the app
Choose which page you land on after logging in.
Privacy
Configure your privacy settings, allowing you to hide some information about your account.
Payment cards
Manage your cards in real time, directly from your smartphone.
Smart Withdrawal
Withdraw at UniCredit ATMs without any card. Just need your smartphone.
Set your limits
Select the limits for your payment cards and increase your credit ceiling.
Transfers and payments
Fast access to transfers, payments and international payments.
Instant transfers
Send and receive money in real time and make payments in seconds, even from app.
Maxi-withdrawals
Increase your card limits and withdraw up to €3,000 free of charge.
Maxi-purchases
Make purchases of up to €5,000 per day on the VISA Debit network.
Share IBAN
Share your IBAN instantly with whoever you want: it only takes a click.
Find ATM
Wherever you are, find the nearest UniCredit ATM.
Top-up function
Top-up your phone or reloadable payment card.
MoneyMap
Categorise income and spending and set a personalised budget to help you save money.
Face ID
Safe authentication with facial recognition.
Bills with a photo
Just a simple photo to pay for your bills.
Instant Loan
Up to 15,000€ with instant assessment for pre-assessed customers.
Markets and Trading
Indexes, news and leading markets at a glance.
Multi-currency
Diversify liquid funds and investments in 13 global currencies, in real time.
Push prices
All markets in real time, with up-to-the-minute securities prices.
5-level book
With automatic push updates and a range of tools for you.
New securities infosheets
Even more detailed, with news, similar securities and analysis.
Order protection
Issue "Stop Loss" and "Take Profit" instructions, direct from your smartphone.
Tweet Center
Economic and financial news, straight from the most prestigious channels.
Best & Worst
Real-time updates on the best and worst performing securities.
Calendar
An economic calendar, updated in real time.
Profits and losses
View all the gains and losses from your trading activities.
CFDs
No fees on share, index, currency and commodity CFDs.
Interactive charts
Select the type of graph, add indicators and track trendlines.
Mobile Collaboration
Assess your PFA investment recommendations wherever you like.
Portfolio trends
STARS and ADVICE complete report always available.
Daily Options
Trade on the upside or downside of World Indicies, Currencies and Commodities.Discover more.