INVESTIRE È PIÙ SEMPLICE, SE LO FAI CON IL N.1
Benvenuto in Fineco, la piattaforma di riferimento in Italia per i trader esperti e i nuovi investitori.
Sei nel posto giusto per investire
Dal 1999 aiutiamo le persone a investire sui principali mercati mondiali con strumenti semplici e intuitivi, a condizioni sempre trasparenti e con l'affidabilità di una delle banche più solide in Italia.
SICUREZZA
Banca solida, scelta da 1.4 milioni di clienti
SEMPLICITÀ
Investi e segui i mercati online o con l'app Fineco
PROFESSIONALITÀ
Strumenti evoluti per i traders più esperti
ASSISTENZA
Oltre 200 operatori dall'Italia a tua disposizione

95% investitori soddisfatti
Investi sui titoli che ami
Investi sui titoli delle principali borse mondiali, in tantissimi settori, da un unico conto multivaluta.

ZERO COMPLICAZIONI
Abbiamo reso accessibile l'esperienza di investimento, anche per chi non l'ha mai fatto prima. Se scegli il regime amministrato, ai sensi dell'art. 6 del D.Lgs n. 461/97, gestiamo per te anche la fiscalità, non devi preoccuparti di nulla.
MASSIMA AFFIDABILITÀ
Con gli investimenti non si scherza. Fineco è una delle banche più solide in Italia, con un customer care di eccellenza e una piattaforma affidabile.
NESSUNA SORPRESA
Ti offriamo commissioni basse e sempre trasparenti, senza costi nascosti. Nessun deposito minimo o spese di uscita.
Pricing su misura
In Fineco ci impegniamo ad offrirti condizioni vantaggiose, che si adattano al tuo livello di operatività. In più hai massima trasparenza, nessun costo nascosto e una qualità dei servizi sempre all'altezza delle tue aspettative.
FINO A 2,95€.

PIÙ INVESTI, MENO PAGHI

Nel mese di apertura del conto Fineco e in quello successivo fai trading su Azioni, Etf –Italia, Europa, America e Canada- e Obbligazioni e Certificati in Italia ed Europa* a 9,95€/$ o 20CAD per eseguito. Con 10 eseguiti al mese mantieni la commissione ridotta e se aumenti l'operatività la riduci fino a 2,95€, 3,95$ o 10CAD.

Scopri come abbattere le commissioni
*Mercati per i quali si applica il pricing sopraindicato: Italia e Europa: Obbligazioni (Mot – EuroMot – Etlx – MIMTF – Euronext), ETF e azioni (Euronext Milan – Xetra – Equiduct Germania, Francia, Olanda, Portogallo – Euronext), CW e Certificati. USA: azioni americane (Nyse, Amex, Nasdaq). Sui mercati Equiduct Francia, Olanda e Portogallo e Euronext, oltre alla commissione di negoziazione, è previsto il pagamento di 9€ di diritti fissi per ogni ordine eseguito. Per «commissioni generate nel mese» vengono considerate le commissioni generate con gli ordini eseguiti sia sui mercati americani che sui mercati europei (controvalore in euro).
* Margine fisso pari a 1% su Future FTSE MIB, Mini FTSE MIB, Dax, Mini Dax, EuroStoxx, Bund, BTP, Dow Jones, S&P500, Nasdaq; margine fisso pari al 3% su Future Crude Oil e Mini Crude Oil.
Riduci i costi di cambio valuta
I costi di cambio valuta non sono sempre trasparenti. Con il Multicurrency Fineco cambi i tuoi Euro una volta sola e a zero commissioni, solo spread, in oltre 20 valute. Poi operi direttamente nella valuta locale, senza altri costi sommersi.



















LE TASSE? CI PENSIAMO NOI
Se scegli il regime amministrato, calcoliamo, dichiariamo e versiamo le imposte generate dalla tua attività di trading. Così non devi preoccuparti di nulla, non rischi sanzioni dall'Agenzia delle Entrate e puoi concentrarti sui tuoi investimenti.
FAI TRADING. OPPURE NO
Non hai nessun vincolo. Per iniziare ad investire non è necessario un versamento minimo. Non hai limitazione di operatività né commissioni di inattività. I titoli puoi trasferirli a zero spese e i tuoi soldi sono sempre disponibili sul conto.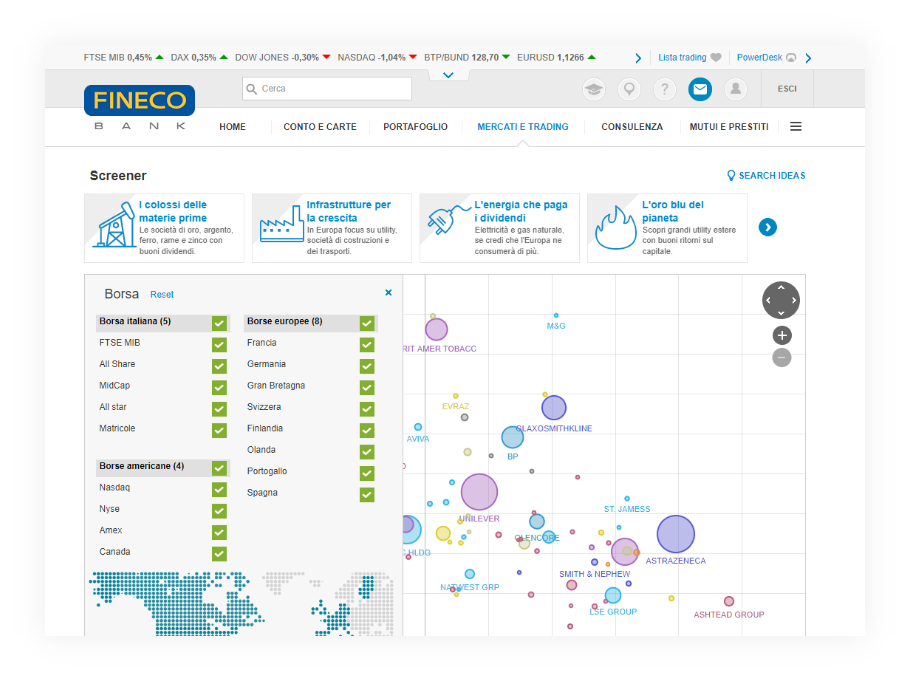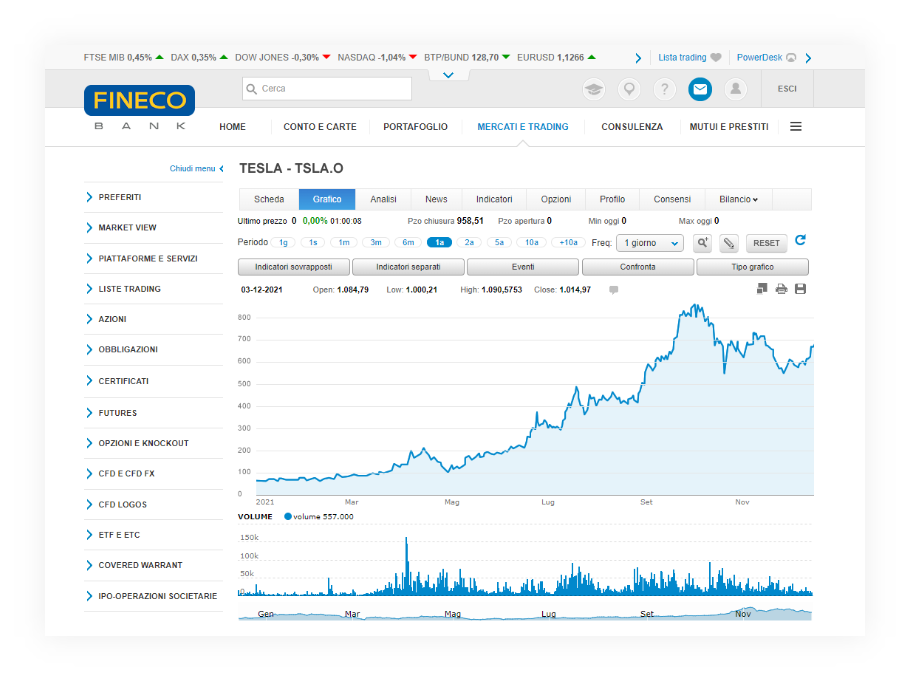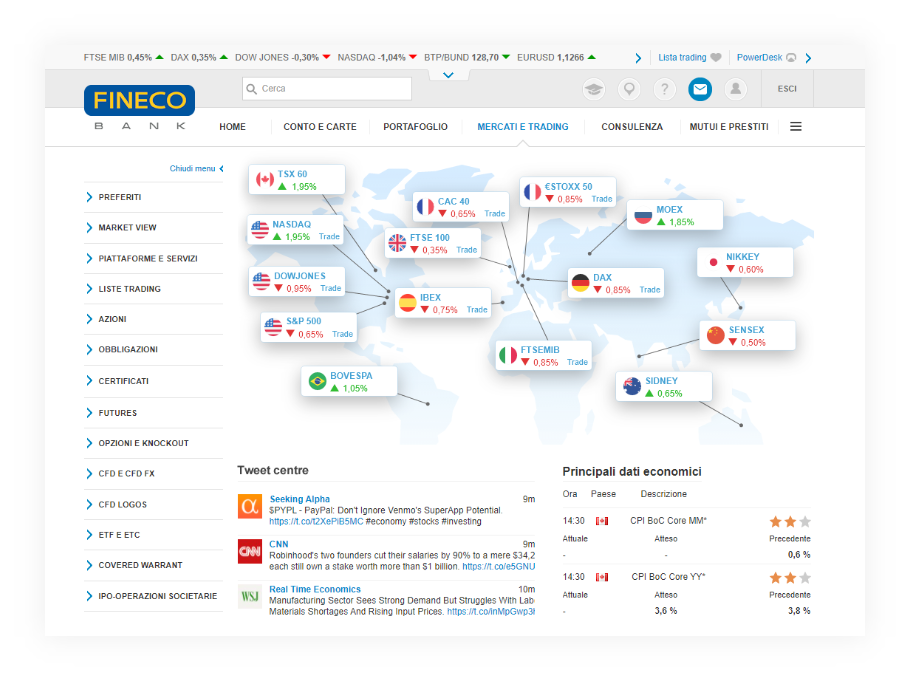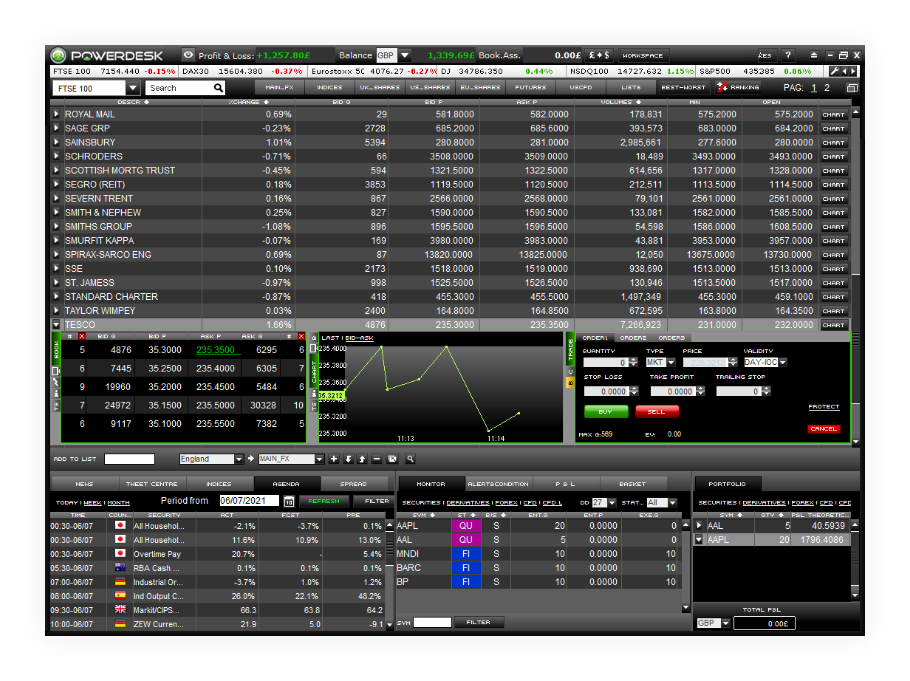 UN'ASSISTENZA SU CUI PUOI CONTARE.
LO DICONO I CLIENTI
In Fineco abbiamo oltre 200 operatori pronti ad assisterti. Al telefono, via mail e anche con gli SMS. Rispondiamo sempre dall'Italia e proviamo a risolvere i problemi in tempo reale con te, proprio quando ne hai bisogno. E se sei un investitore attivo, un team di Trading Specialists si prende cura di te assistendoti in modo ancora più veloce e prioritario.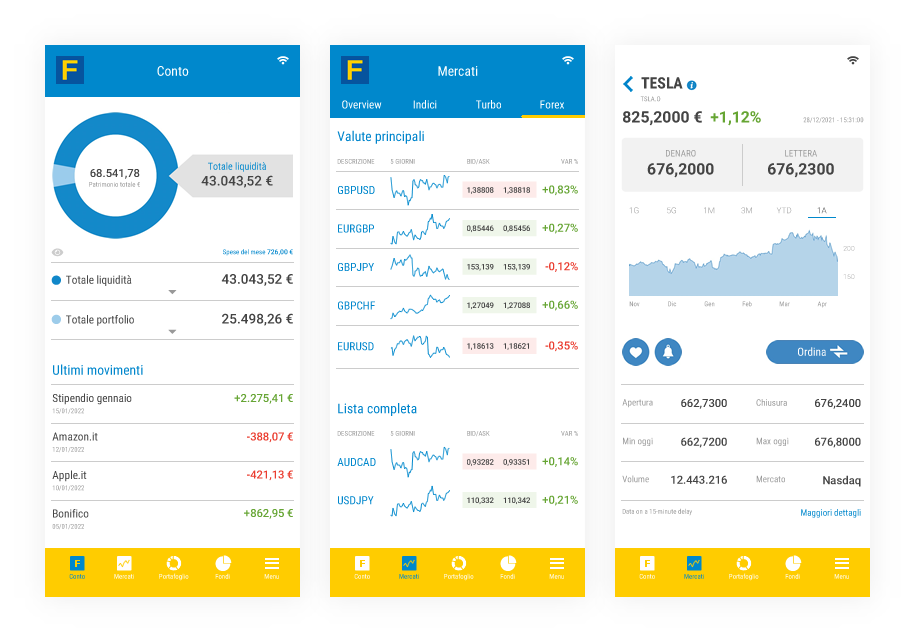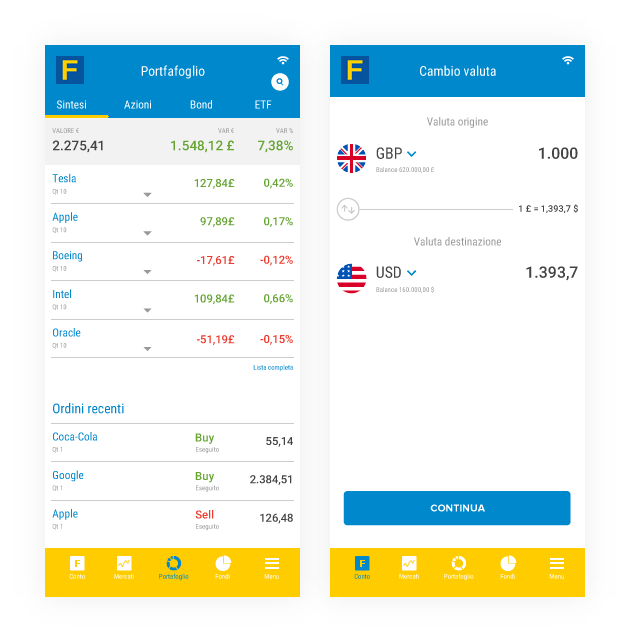 Massima affidabilità quando ne hai bisogno
I mercati si muovono velocemente: quando vedi un'opportunità, vuoi coglierla al volo. La piattaforma Fineco è ingegnerizzata per offrirti massima performance e stabilità anche nelle fasi di mercato più concitate.
33mln
di ordini gestiti all'anno
98%
uptime piattaforma
100%
progettata e gestita da noi
LA SICUREZZA,

PRIMA DI TUTTO

Con Fineco i tuoi soldi viaggiano sicuri. Siamo una banca solida, con indici di capitale tra i più robusti in Italia e facciamo parte dell'indice EuroStoxx 600. Abbiamo un team di cyber-security che lavora 24/7, oltre 400 Fineco Center in tutta Italia e 2.600 consulenti finanziari che puoi incontrare di persona. Ci mettiamo la faccia, perché la sicurezza dei tuoi risparmi viene prima di tutto.
L'operatività in strumenti finanziari può determinare perdite del capitale. Gli strumenti finanziari derivati sono strumenti complessi e presentano un significativo rischio di perdere denaro rapidamente a causa dell'effetto leva. Operando in strumenti finanziari derivati e in marginazione le e perdite possono anche eccedere il capitale investito.
CFDs are complex instruments and present a significant risk of losing money quickly due to financial leverage. 64.95% of retail investor accounts lose money due to CFD trading with FinecoBank. You should consider whether you understand how CFDs work and whether you can afford to take the high risk of losing your money.