UN MONDO DI OPPORTUNITÀ
Un'ampia gamma di prodotti trading accessibili da un unico conto multivaluta, da sito, app e PowerDesk.
CFD FX
Per chi cerca il massimo dal Forex.
TRADING H24 e NUOVI SPREAD:
EUR/USD 1 PIP
EUR/GBP
GBP/USD
EUR/JPY
USD/JPY
1,2 PIPS
1,2 PIPS
2 PIPS
1 PIP
Find out more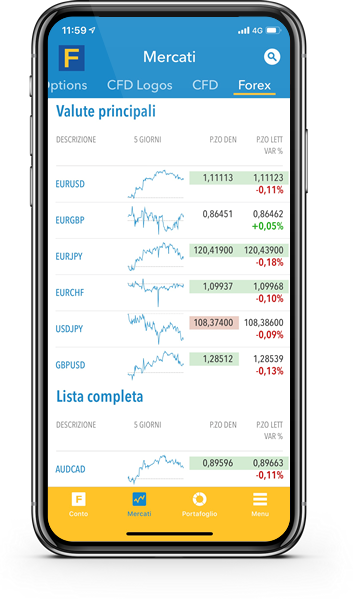 CFD
With CFDs, your trading is truly global: trade in more than 20 European countries and the US as well as Mexico, South Africa and Brazil.
Zero commissioni, solo spread trasparenti
Margine minimo 3,5% per clienti retail
Informativa in push gratuita
Ordini automatici anche overnight
Plus, with Super CFDs you can trade Eurostoxx, BTP, Bund and US indices on Dax at lower spreads compared to CFDs and for the same amounts as are available for futures. They are not subject to Tobin Tax.
KNOCK OUT
Crea la tua strategia su indici, Forex, criptovalute e materie prime.
LINEARITÀ DEL PREZZO CON IL SOTTOSTANTE
Futures
Su IDEM, EUREX e CME, anche Mini e Micro. Con margine intraday da 1% grazie alla Super Leva

Ora operi a partire da
---
MINI FIB 0,95€
MICRO NASDAQ 100 1$
MICRO DOW JONES 1$
MINI DAX 0,95€
MINI GOLD 2,95$
MINI CRUDE OIL 2,95$
A world of shares
Thousands of shares from the major global markets. Buy and sell, trade on margin and in local currency:  USD, CHF, GBP, JPY, CAD and TRY.
Trading in Italy, Europe and USA
Interactive charts and technical analysis
News, accounts and indicators
Real-time quotations and "push" book delivery
Automatic and conditional orders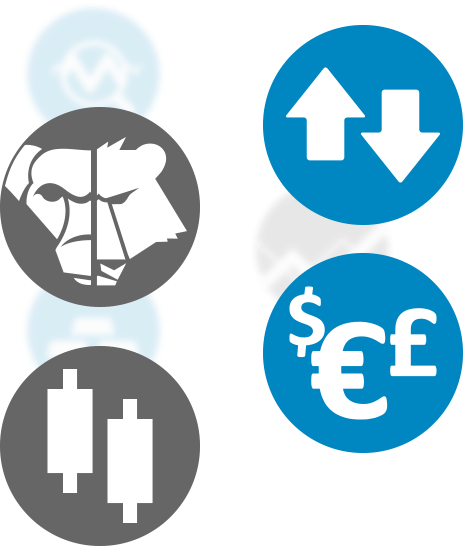 All bonds
More than 6,000 securities including BOTs, BTPs, and government/bank/corporate and structured bonds.

Plus a huge amount of information in our dedicated Bond center and all the professional tools to improve your trading.
Max. €19 per order, which can fall to €2.95
MOT, EuroMOT, EuroTLX, Hi-MTF, Euronext
Leverage up to 20x
Stop Loss, Take Profit e Trailing Stop
Government bond auctions
ETF e ETC
Migliaia di ETF e ETC e scopri il Piano Replay: il piano di accumulo in ETF.
Perché gli ETF e ETC?
LIQUIDITÀ
Sono strumenti estremamente liquidi che sono facilmente vendibili e acquistabili in qualunque momento.
STRATEGIA
Diventa più semplice elaborare strategie multi-asset che sfruttino le tendenze dei mercati.
TRASPARENZA
Sono strumenti che hanno insita nella propria natura la trasparenza anche a livello di costi e di strumenti all'interno del paniere.
VERSATILITÀ
Il piccolo risparmiatore può accedere ai principali indici di mercato senza la necessità di dover comprare tutti i titoli presenti nel paniere.
Fineco educational
Tutto ciò che ti serve sapere per potenziare le tue strategie.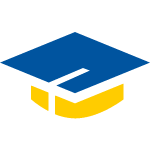 Se vuoi iniziare a fare trading, approfondire le tue conoscenze o semplicemente confrontarti con
professionisti del settore:con la formazione gratuita Fineco hai sempre a tua disposizione numerosi
Webinar online e corsi in aula.
CFDs are complex instruments and present a significant risk of losing money quickly due to financial leverage. 68.01% of retail investor accounts lose money due to CFD trading with FinecoBank. You should consider whether you understand how CFDs work and whether you can afford to take the high risk of losing your money.