Multiply your trading with Margin Trading
With Fineco you can trade by investing just a part of the liquidity needed and keep earnings and losses well under control thanks to an automatic, customisable Stop Loss.

And if you are looking for more leverage, with Super Intraday Margining you trade on the shares of the main Italian and foreign companies with 50 times the leverage.
Guarda come richiedere l'abilitazione al servizio
LEARN HOW IT WORKS
| Description | Margin | Max financed |
| --- | --- | --- |
| AMAZON | 2% | 50.000,00 € |
| APPLE | 2% | 50.000,00 € |
| STELLANTIS BR | 2% | 50.000,00 € |
| STM | 2% | 50.000,00 € |
| DEUTSCHE BANK | 2% | 50.000,00 € |
Super Leva: multiplies your results
With the new Super Intraday Margin Trading a minimum investment can bring you maximum earnings: trade on the shares of the main Italian and foreign companies with a 50 times greater leverage effect. From website, app and PowerDesk, with the same commission plan applied to the share and the margin.
FIND ALL SECURITIES
Intraday and Multiday Margin Trading
With Intraday and Overnight Margin Trading just trade a part of the liquidity needed and multiple results by up to 20 times. You can invest upward and downward on about 1200 shares with customisable margin (5-100%) and automatic Stop loss.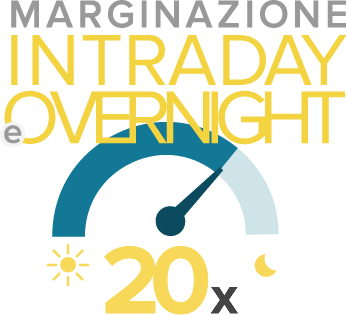 More control, with automatic orders
Set automatic orders to manage your portfolio or invest even when you're away from the computer.
There is no extra cost and they are available for a huge range of shares, futures, currencies and bonds.
Two shut-off conditions that you can set when making your order. "Stop Loss" protects your position by limiting your losses when the price hits to a set threshold.
With "Take Profit" you benefit from price rises, by capitalising the gains.
Conditional orders are activated when conditions you have set are met. You can use up to 30 conditional orders at the same time. OCO ("one cancels the other") conditional orders means two actions can be set for the same security; the execution of one implies the cancellation of the other. Related orders let you set up a conditional order that depends on the performance of another financial product.
A dynamic stop that tracks a security's price and protects your position from negative changes in the market. Looks at the latest high/low of the security and adapts the stop, which is set as the maximum amount that the price is allowed to drift.
Can be used in combination with a fixed stop (Stop Loss/Take Profit).
Fineco Book
is the free, simple and compact platform for:
Viewing prices and charts
Making and monitoring orders
Setting alerts and Stop Loss orders
To take a look, click on the "Book" button on the share price page.
The Fineco Book was designed in collaboration with Fineco's biggest trading clients and includes:
Pop-up charts
Fast order completion
Automatic orders
Conditional orders, including with leverage
Book duplication function
Up to 9 books automatically delivered by "push"

In detail
Change security
Enter name or ticker symbol to view it in the Book.
Book in push mode
View prices with automatic update in real time.
Duplicate Book
Duplicate Book and search for a new security.
Chart
View the intraday or historical chart of the selected security.
Fast Order
Click on ask/bid price levels to pre-fill the order.
Order monitor
Real time updating enables you to view the status of your orders.

Buy and Sell
Quantity
Enter order quantity or change the default quantity (equal to 1) using the + and - buttons.
Type and Price
Set order Type (Limit, Market or Market - auction) and price level.
Ordinary or on Margin?
Three trading methods are available for you to choose: ordinary, Intraday margining or Overnight. When trading on margin, click Buy to place a long order or Sell to go short
Expiration Date
Select the period of validity of your order: until the close of the markets today (today) or up to a specific date, selected from the drop-down menu (for limit orders only).

Protect your orders
Use automatic orders to protect your investments while away from your computer. You can use them to limit excessive losses and/or to set profit goals.
Stop Losses and Take Profits
Two fixed conditions that are set when entering an order, which protect the position until it is closed. You can either maximize profits (Take Profit) or limit losses (Stop Loss). One order excludes the other.
Demo Stop LossDemo Take Profit
Trailing Stop
It is a dynamic stop order that shadows a price movement and protects your investment in the event of sudden market changes.
It can be used in combination with a fixed stop (Stop Loss/Take Profit).
Why should you use a Trailing Stop

Conditional orders
These orders are automatically triggered upon the occurrence of certain conditions set by you (e.g., "when the price drops to 3.5 € sell ​​500 shares" or "buy 1000 securities").
You can set alerts, OCO conditional orders and contingent orders.
To view all conditional orders, click on Monitor and check the conditions you have entered, activated, removed and deleted for each security.
Note: conditional orders on margin result in the opening of new positions. You can set a stop loss on open positions from the Margin Monitor.
Alert
Receive an alert by email or SMS when the pre-set condition occurs (e.g. If the price is > € 8.90). You must specify an expiration date for the condition.

OCO conditional orders
With OCO orders, i.e. "one cancels the other" orders, you can enter two conditional orders simultaneously on one individual security.
Upon the occurrence of one of the two set conditions, the the relevant conditional order shall be triggered, automatically cancelling the second conditional order.
Check out the demo
Contingent orders
let you set up a conditional order that depends on the performance of another financial product.
Through this type of automatic order you can connect conditional orders on different instruments and markets.
Check out the demo

Build your MultiBook
Books are of small size, so you can combine your favourite securities and build a customised MultiBook platform.
For fast trades, click on the "bid/ask" levels of the security you want to trade.
In push mode, you can see the changes in prices and volumes at a glance in the red and green cells.

How to use automatic orders.
Stop Loss
Set the maximum loss you are willing to take.
Take Profit
Set a target price to close your position at a profit.
Trailing Stop
Maximize your profits, while limiting your losses with a dynamic Stop Loss.
Combined order
Use simultaneous conditions to maximize order protection.
OCO Conditional Order
Two orders on one security: when one is triggered the other is automatically cancelled.
Contingent Order
Set your strategy on several financial instruments.

Stop Loss
Set it online and apply it immediately. If the stock falls the Stop Loss triggers a sale and you limit your losses.

Protect your positions from the web platform, the book or PowerDesk: your investments are always under control, including when you're away from your computer.

It is usually combined with a Take Profit.


Take Profit
To maximize your profit, you can set a Take Profit order.
Set the target price at which you want to close your position.

You can set it directly when placing your order or later from the order display, the web platform, the book or PowerDesk.


Trailing Stop
This order dynamically tracks a security's price and protects your position from adverse changes in the market.

It looks at the latest high/low of the security and adjusts the stop accordingly, which is set as the maximum amount that the price is allowed to drift. You can set it from the web platform, the book or PowerDesk.


Combined order
Set your strategy by combining the three types of order: Stop Loss, Take Profit and Trailing Stop.

The conditions you set are independent and one excludes the others. You can use just one condition or combine them for enhanced protection of your order or position. When one condition occurs any other conditions set will be cancelled.


OCO conditional orders
Click on the item conditional order from the book and choose which type of conditional order you want to place: simple, OCO or contingent order.

Simple conditional order
You can combine a conditional order with a Stop Loss, a Take Profit or a Trailing Stop, by clicking on the link "protect order" and filling in the fields.

OCO conditional order
In an OCO conditional order you can set two different actions on the same security, the triggering of one of them involving the disabling of the other.

Contingent order
Contingent orders let you set up an order on an instrument that depends on the performance of another instrument.

It is available on Web Platform and book and adds flexibility to your trading strategy by expanding your operating scope.


Multicurrency: one account, more currencies
Integrated in your EUR Fineco account, Multicurrency is the service that allows you to diversify liquidity and investments and to operate directly in the main world currencies without exchange commissions, only spreads:
Buy and sell currencies day and night, 7/7
Receive and arrange transfers using just the EUR IBAN
Trade in local currencies across global markets
Receive and reinvest dividends in foreign currency
Maximise your opportunities

With the introduction of new hours for the currency exchange service, you can buy and sell currencies day and night, even during the weekend, with just a little pause from 11 pm to 2 am.

Get a 40% reduction on the standard spread for conversions of €500,000. And if the value exceeds €1,000,000, the spread is reduced by 50%.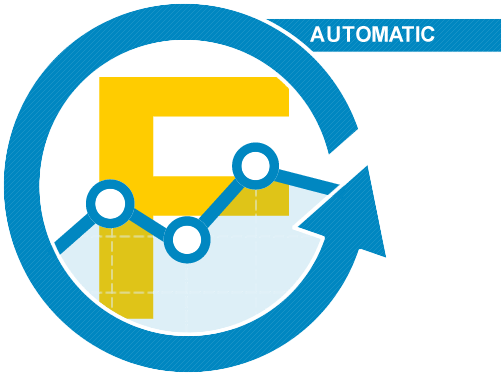 Transfer bonds and funds automatically
At Fineco, transferring bonds and funds is easy and free. Want to transfer all your investments? Automatic transfer is the solution for you. You can do it all online in just a few seconds and in 45 days your investments will arrive in your account, with no extra costs.
Fai valere di più i tuoi titoli.
Con il servizio Portafoglio Remunerato puoi ottenere fino al 7% lordo annuo di rendimento extra prestando i tuoi titoli a Fineco, in sicurezza e mantenendo la libertà di vendere o trasferire i tuoi titoli. Attivalo gratuitamente.
Discover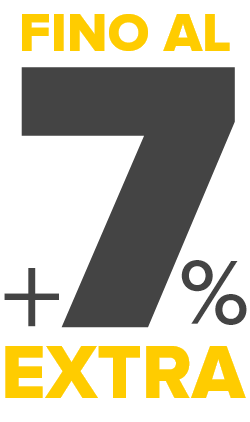 Fineco educational
Tutto ciò che ti serve sapere per potenziare le tue strategie.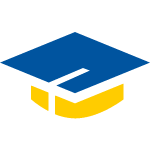 Se vuoi iniziare a fare trading, approfondire le tue conoscenze o semplicemente confrontarti con
professionisti del settore:con la formazione gratuita Fineco hai sempre a tua disposizione numerosi
Webinar online e corsi in aula.
Notice to investors
Margin trading is a trading method that requires advanced market and financial investment knowledge. Although the transaction is structured to include the use of automatic stop losses, if the market were to experience strong and sudden adverse changes in the stock price, the realized loss may exceed the amount originally invested (margin). This type of transactions is therefore highly speculative and involves a high level of risk.
What is Margin Trading?
---
Do you think that the price of a stock will rise and you want to tie up only part of the necessary amount?
The Margin Trading service allows you to buy securities using only part of the necessary liquidity, opening a Long Leverage position. Do you think that the price of a stock will fall? Short Margin lets you sell the stock without having the necessary funds by tying up only a part of the amount.
HOW DOES INTRADAY AND MULTIDAY MARGIN TRADING WORK (EXCLUDING SUPERLEVERAGE MODE)
For each security, Fineco simply sets a minimum and a maximum margin, leaving you the possibility to choose the one you want among the available alternatives. This way you can multiply the results, whether positive or negative, up to 20 times.
You can change the margin once a day even with an open position and transform it, where applicable, from Intraday to Multiday with the Carry On function.
At the Stop Loss automatically associated by the bank you can also add a manual Stop Loss to further limit your losses and a Take Profit or Trailing Stop to manage your earnings.
SCOPE OF THE SERVICE: Margin Trading is available on over 1,200 securities.
REQUEST ACTIVATION: If you have not done so yet, request the activation of the service in the reserved area, Account Management → Service Management Trading and Investments and Start immediately to manage the margin of your orders: you can do it directly from the website, the Fineco app or the PowerDesk platform.
IN THE EVENT OF SUDDEN SHARP NEGATIVE CHANGES IN THE PRICE OF THE SECURITY, LOSSES MAY EXCEED THE CAPITAL INVESTED
The "SuperLeva" transaction : transaction foresees leverage levels and differs partially to ordinary margining. For more information on the SuperLeva method, please refer to the operating Regulations on margining available on www.finecobank.comModifying the margin : is possible, for just one order a day, for single position during the instrument negotiating times. Modifying the margin is not allowed if orders in the "placed" status (that have not been executed and/or cancelled) are present in the margining position. The margin cannot be modified on the position's final deadline day. The margin cannot be modified for SuperLeva transactions.The position can only be changed from intraday to multiday (so-called carry on) if that possibility is specifically foreseen. Carry on is not foreseen for SuperLeva transactions. Automatic orders: Stop Loss, Take Profit and Trailing Stop are not foreseen for transactions in SuperLeva.
CFDs are complex instruments and present a significant risk of losing money quickly due to financial leverage. 69.83% of retail investor accounts lose money due to CFD trading with FinecoBank. You should consider whether you understand how CFDs work and whether you can afford to take the high risk of losing your money.