The right place
to invest

Fineco is Europe's most popular direct bank for investments. If you are thinking about your future, talk to our Personal Financial Advisor.
Together we can accomplish your goals
To reach your goals you need a clear plan. A new home, pension, ongoing protection for your assets, inheritance planning: whatever your plans for life, our consultants know how to help guide you to the best choices, while also optimizing the costs and tax issues.
All in the strictest confidence.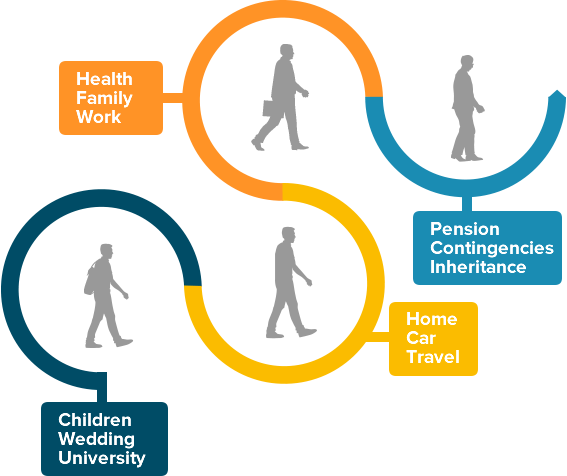 What are your priorities?
Our consultants help you to carry out the most significant life projects for you and your family.
BOX RENDIMENTO
BOX PROGETTO
BOX GAP
BOX IMPREVISTI
BOX PROTEZIONE
BOX PASSAGGIO
Capital management
The markets are full of opportunities. With the right guidance, you can grasp the best ones, choosing the strategy that best suits you in any market situation, through global and diversified investments.
Carry out a project
Manage today, plan for tomorrow. The purchase or renovation of a house, university studies for your children, a new car or a trip: we make it easy to create an investment path that allows you to face the most important moments of your life calmly and methodically.
Pension gap
A lifetime of work and sacrifice cannot be left to chance. We'll help you to take every precaution to maintain your lifestyle even in retirement, planning all the steps to face the future with the right level of economic peace-of-mind.
Contingency management
Predicting the future is impossible. But with a systematic approach to investing and saving we can help you to be ready to face the most difficult moments and contingencies in your life. With our insurance solutions and savings plans, it's easy.
Capital protection
Risk-free yield? With our insurance solutions it is possible. Thanks to investment in equity instruments with guaranteed earnings, we can safeguard part of your capital without giving up new opportunities for higher yields.
Inheritance planning
Detailed forward programming of your estate planning is essential to achieve the best tax advantages (Such as tax deferral on capital gains and exclusion of the estate) and maximize the transmission of your assets to your loved ones.
We find the answers together
Your Personal Financial Advisor will guide you to the best choices through an advisory service divided into four well-defined phases. This gives you maximum control, leaving nothing to chance.
It all starts with a conversation: you tell us your needs, we create the best plan to achieve them.
Describe your goals. We'll think about how to achieve them
Having goals is important, but it is even more important to know how to reach them.
Your Personal Financial Advisor listens to your priorities and your needs to give you an impartial assessment of the timing and strategy of the investment plan, explaining the risks and opportunities with full transparency.
no active
If you already have the investments in place, we carry out an initial check-up of your current portfolio.
We take a snapshot of the state of health of your assets
With the tools at their disposal, your Personal Financial Advisor can maximize the quality of your current investments, including those at other banks.
Assessing the overall level of risk and return we can plan the evolution over time of your capital and therefore make the best choices.
Your Personal Financial Advisor will define the most appropriate investment strategy by selecting the best products.
We build the best path to the target
Based on the goals you want to reach, your Personal Financial Advisor defines the investment strategy. To do so, they will need to have your guidance on:
Time horizon; how soon you want to achieve your goals.
Level of risk/return: how much risk you are willing to assume to obtain a certain return.
Your custom plan is now ready to put in place.
no active
Your Personal Financial Advisor will define the most appropriate investment strategy by selecting the best products.
Investing well is not enough
For a successful investment, it is essential to perform continuous monitoring, so as to be able to intervene and re-calibrate your portfolio at the right time.
With Fineco services you have a number of indicators that allow you to:
Check the progress of the plan against the objectives
Monitor the level of risk involved
Intervene promptly in case of changes in the market
Rebalance the portfolio at the right time or if necessary
All with simple and detailed reporting, always available.
Call
800.92.92.92
or write to us asking to be
contacted by our Personal Financial Advisor.
Our promises
No surprises, no hidden costs. Our Advisors work alongside you with full transparency and you always have everything under control.
At home, in the office or on the phone: our consultants are always on hand to listen and respond to your questions. And with "
web collaboration
", you can also interact online.
The internal fund selection team works every day to identify the best solutions offered on the market.
Our consultants have their hands free, they choose the best investments on the
With the
graphometric signature
you can sign documents electronically. Simple, fast and above all safe, it guarantees the authenticity of the signature made by the holder and ensures there is no modification of the document.
Your Personal Financial Advisor creates a tailored investment plan for you by combining a variety of products and solutions, as well as "restructuring" your current portfolio.

Personal Financial Advisor
Thanks to the support of your Personal Financial Advisor, you will be able to define the best investment strategy for your wealth with a custom plan.
Discover
It's written Private,
it means Future
Private Banking in Fineco means building a deeper relationship with the customer for the realisation of his life goals, combining the most advanced technologies with the extensive experience of our financial advisors.
Discover

Our solutions to invest in the best
More value for your investments
Banks are not all the same, especially when it comes to investments.
Invest little by little

Savings plans to build with small investments.


Thinking about tomorrow

With our pension solutions, you won't have to give up your lifestyle.


Why pay more?

No fees on custodian services
No entry charges on 700+ funds
No costs on corporate transactions

Not only funds

More than 6,000+ products, including Italian BOTs and BTPs, government and corporate bonds.