Learn with Fineco

Accounts, markets, trading and investing explained with ease by professionals.
A comprehensive selection, open to everyone: choose between live seminars, online webinars where you can chat in real time with course leaders, training videos and videoguides to discover all Fineco's services.
Video Library
A huge collection of videos and online seminars available on demand, to help you get more out of your Fineco account and learn about the main trading and investment techniques.
0:02:30
Commissioni fisse: fino a solo 2,95 euro /3,95 dollari per eseguito
Con il piano roll-on le tue commissioni si riducono in automatico su azioni, obbligazioni e titoli di Stato
Argomento: Primi passi
0:02:20
Area mercati
News, calendario economico e tanto altro, per essere sempre aggiornati
Argomento: Primi passi
0:01:42
News e report finanziari
Reuters, MF-Dow Jones, Morningstar e video da Class CNBC
Argomento: Primi passi
0:01:49
Calendario economico
Sempre informato su dati macroeconomici e non solo
Argomento: Primi passi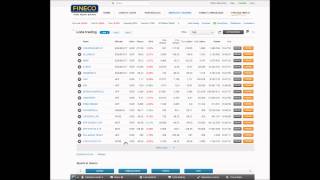 0:02:43
Liste personalizzabili
Per avere sempre sotto controllo i miei titoli preferiti
Argomento: Primi passi
0:00:43
Dettaglio strumento
Tantissime informazioni su qualsiasi strumento ti interessi operare
Argomento: Primi passi
0:02:05
Grafici interattivi 1/2
Come scegliere periodo e frequenza e tracciare supporti, resistenze e trendline
Argomento: Primi passi
0:01:56
Grafici interattivi 2/2
Candele, grafici comparativi e studi di analisi tecnica
Argomento: Primi passi
0:02:55
Money Management
Come gestire il capitale nelle operazioni di trading
Argomento: Primi passi
0:01:35
Denaro e lettera
Etimologia e significato
Argomento: Primi passi
0:00:37
Maschera ordine
Andamento titolo e tutto quello che serve per impostare un ordine
Argomento: Primi passi
0:01:42
Ordini a mercato
Esegui tutto, subito e al primo prezzo disponibile
Argomento: Primi passi
Want to know more? Leave us your details and one of our specialists will get back to you.
An error occurred while forwarding the request. Please try again in a few minutes.
Thank you for your interest, but your personal data are already registered on our systems.
Thank you for registering. You will be contacted shortly.
Thank you for sending your data. You will be contacted shortly.
Where the courses, referred to above refer to Fineco services/products, they are purely for promotional purposes. Information provided during the courses is indicative and does not cover all the characteristics, the nature or risks of the products/services mentioned. for reasons other than their intended purely informational purposes does so at their own risk. Reference to specific financial instruments must not be understood as investment advice, a public offer or solicitation to acquire the products or services mentioned. No learning materials will be provided. To view all the terms and conditions for Fineco products/services, please refer to the information sheets and documentation required under current regulations required under current regulations.
Contracts For Difference (CFD) trading is available to clients following the assessment of their knowledge of derivative instruments and the subscription of the Derivative Trading Contract.
CFDs (Contracts for Differences): a CFD is a financial derivative, which you can buy or sell with FinecoBank as your direct counterparty. Its value is directly related to that of an underlying asset (securities, indices, currencies, futures on bonds, futures on volatility indicators and futures on commodities) and consequently follows the price movement in the underlying asset. In particular, in CFD trading your profit/loss is given by the difference in value between the opening price and the subsequent closing price of the contract. The opening price and the closing price are determined by the Bank applying, if appropriate, a mark-up or a spread on the underlying price to the extent indicated by the economic conditions at the time. CFDs are characterized by a strong leverage effect. This means that a relatively small price movement in the underlying market will have a proportionally higher impact on the value of your margined position and an unfavourable price movement may result in losses exceeding your initial margin deposit (increasing underlying price for short positions, decreasing for long positions). CFD Positions open for more than a working day (overnight) are subject to a multi-day position fee.

CFDs are complex instruments and come with a high risk of losing money rapidly due to leverage. 66.07% of retail investor accounts lose money when trading CFDs with this provider. You should consider whether you understand how CFDs work and whether you can afford to take the high risk of losing your money.
Before trading in CFDs, please read carefully the Key Information Documents (KIDs) available on the website: finecobank.com.

Leverages offered are differentiated according to the type of underlying and customer classification: up to 28.57 times for retail customers and up to 100 times for professional customers.
For the economic conditions, features, nature and risks of the products, reference must be made to the contract supplements (delete links to contract supplements) concerning the services for receiving and transmitting orders and for executing orders on behalf of customers also by negotiating derivative financial instruments, as well as to the relevant Product Sheets and Operating Rules, available on the website finecobank.com. finecobank.com.